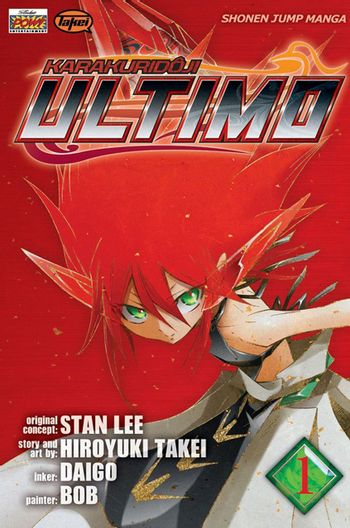 "You shouldn't rely on others to help you determine what's good or what's bad. In no time at all, you'll simply be under someone else's control."
In 12th Century Japan, a man named Roger Dunstan unleashed his curse on the world with his creations. He created two Karakuridoji, 'mechanical boys', one representing pure good and the other representing pure evil. The two were to make contracts with human masters, learn about the world, and grow stronger... until one day, they would battle to the death, all for no other reason than to find out which of the two were stronger. In time, he also created others that represented the gaps of good and evil. Yamato, a bandit who fights an oppressive government, opened the boxes in which these two robots were contained and made a pact with Ultimo, the 'Ultimate Good'. The two fought together for some time, until Yamato's eventual death.
Cut to the present day, where Yamato's reincarnation stumbles into an old antique shop trying to find a birthday present for his crush. And of course, chaos erupts once again like centuries ago with Vice, the evil karakuridoji, already chasing Yamato's tail. The highly confused Yamato begins his struggle to survive and re-connect with his former partner, even as other Douji, both good and evil, begin to set their own plans into motion. And throughout it all, Dunstan continues to watch from the shadows, observing the ensuing chaos for his own enigmatic purposes...
Karakuridoji Ultimo ("Mechanical Boy Ultimo") is a manga created by Hiroyuki Takei (creator of Shaman King) and Stan Lee of Marvel Comics fame. The manga ran in Jump Square from 2009 to 2015, and was compiled into 12 volumes.
Takei's other series Jumbor Barutronica is arguably its Spiritual Successor.
Has a wiki
. The forum thread is here
.
Not related to Karakuri Circus, although the main character do look and act very similar. It's not related to Karakuri Odette either.
---
Provides examples of:
Black Dude Dies First: Out of 12th century Yamato's group, the first person Vice kills is the black samuri.
Borrowed Catchphrase: In the beginning of Chapter 8, Ultimo says to Yamato, "Your wish is my command!". At the end of the chapter, Jealousy says the exact same phrase to Rune.
Bowdlerise: Although the English Translation is rated 13+ , it is still VERY censored. Even "crap" was changed to "oh no". The original versions shown in Shonen Jump Magazine often censored out some of the violence as well. (The cut Yamato got from Jealous was made to look a lot less serious for example.) The volumes thankfully leave the scenes intact.

This may be Stan Lee's involvement speaking; he's not really much for cursing in his own work.
Censor Steam: The English translation uses this for Yamato's shower scene.
Chaste Hero: Ultimo is implied to be this. He never picked up on the awkward atmosphere after the chapter 3 incident, nor does he seem to realize what kind of implications he is causing with how friendly he is with Yamato. Makes a lot of sense though, since he is the embodiment of pure good.
Clothing Damage: Everybody in their mecha forms.

Yamato lampshades this in chapter 16.

"I have to find out if I can do anything about my clothes shredding when I combine with Ultimo."
Flash Forward: Contains a lot of these, mostly shown through Yamato's nightmares.
Oblivious to Love: Yamato on Rune's crush on him, up to Chapter 10.

"ALL THAT MATTERS IS THAT I'VE BEEN IN LOVE WITH YOU FOR 900 YEARS!!!"
Visual Innuendo: Vice's mecha form has a large spike that curves upward, between his legs.
Vitriolic Best Buds: Oh, Akitsu and Yamato. They clearly hate each other, and Akitsu goes out of her way to make Yamato's life miserable, but they have been friends for seven years. Surely something is keeping them together. They have shown at least one sign of concern for each other as well. (Akitsu panicing when Yamato jumped out of the school window, and Yamato did think about her alongside his other friends when he was worried about not seeing everyone again.)
We Will Meet Again: Subverted by K: Look Forward to the day we meet again! Though I really don't want to see you again!
You Can't Fight Fate: Murayama comes from the future, and his goal is to stop the Hundred Machine Funeral from happening. He fails the first time, and considering how Dunstan is always meddling with events, he probably can't stop it from happening.

Rune becoming Jealousy's master.

Eco getting stabbed in the stomach by one of the evil doji.

You Have Outlived Your Usefulness: Jealous pretty much says this to Iruma. Twice.
---