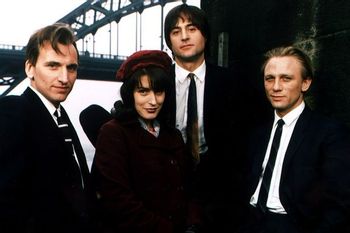 BBC drama series following the lives of four friends from North East England over three decades. Each of the nine episodes is named after the year in which it is set- 1964, 1966, 1967, 1970, 1974, 1979, 1984, 1987, and 1995- and they chart political events and social changes occurring in these years, from the widespread police corruption of the 1960s, the miners' strikes and the rise of Margaret Thatcher in the 1980s, and the birth of New Labour in the 1990s. The series was adapted for television by playwright Peter Flannery, from his stage play of the same name.
The series provided four Star Making Roles for the then little-known actors cast as the four Friends of the title- Christopher Eccleston as Wide-Eyed Idealist and would-be politician Dominic "Nicky" Hutchinson; Gina McKee as downtrodden but quietly ambitious Mary Soulsby; Mark Strong as deluded would-be rockstar Terry "Tosker" Cox; and Daniel Craig as troubled and naive runaway George "Geordie" Peacock. It also featured Malcolm McDowell as London Gangster Benny Barrett, Peter Vaughan as Nicky's father Felix, David Bradley as kindly Labour MP Eddie Wells, Julian Fellowes as crooked Home Secretary Claude Seabrook and Donald Sumpter as police Commander Harold Chapple.
In 2022, Flannery remade the series for BBC radio, complete with a tenth episode set in 2020.
---
This show provides examples of:
---