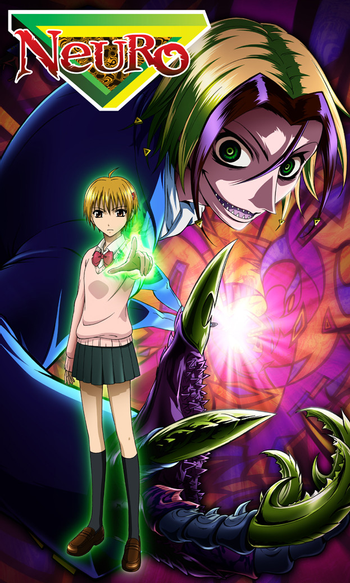 "This mystery is already on the tip of my tongue..."
Majin Tantei Nougami Neuro (lit: Demon Detective Neuro Nougami, also known as Neuro: Supernatural Detective in the US, but popularly Woolsey'd into Private Evil Eye Neuro Nougami), created by Yuusei Matsui, is a supernatural detective manga and later anime that follows Neuro, a demon who literally eats mysteries. Having eaten all of the mysteries in Hell, he goes to Earth in search of the ultimate mystery. There he meets Yako Katsuragi, a schoolgirl whose father was recently murdered. In order to keep his identity as a demon secret, Neuro sets up a detective agency under Yako's name, pretending that she is a brilliant schoolgirl detective and he her assistant. With the aid of his 777 Tools of Hell Neuro spends his time solving the murders he deems interesting while, naturally, dragging Yako along with him.
The plot itself bounces between solving the individual cases of one-time murders and much larger overreaching situations such as the mystery of the Phantom Thief X. Perhaps the most distinctive feature of the series is when the culprit reveals his/her true nature and transforms into another form entirely. At this point, Neuro reverts to his demon form and devours the mystery. That said, it should be noted that since any bystanders (Yako excluded) never see Neuro doing this, it can be interpreted as more of a mental representation.
The manga ran from 2005 to 2009 with 202 chapters, while the anime did from 2007 to 2008 to 25 episodes. Gecko Ending beware.
---
This series features examples of:
Bittersweet Ending: The Big Bad is dead, but Neuro has to return to the netherworld since he's nearly on his death bed, a large percentage of the Japanese population has been killed during the terrorist acts of the New Bloodline and several important characters like Sasazuka, Sai, and Fumio have died due to their connections to the Big Bad. And The Dragon survived his would-be death and has taken over as the pinnacle of evil, and there's no permanent solution to prevent more people like Sicks from showing up since we're all inherently insane. But life goes on and Yako becomes a negotiator and Neuro returns eventually.
Black-and-Grey Morality: Neuro doesn't solve mysteries out of altruism, merely to eat the evil intent of murders, he comes across as good merely because the enemy happens to interfere with his meals. His opponents on the other hand, range from petty to absolutely monstrous.
Blue-and-Orange Morality: Neuro, to the point of Xenofiction. At first, it seems as though he's forcing Yako into this, has no respect for her & views her as an inferior life form equivalent to a paramecium. Then, the series shows how Neuro acts towards people he detests (Sai), considers far over the Moral Event Horizon

(Sicks)

and actually holds in contempt

(Yako, when she decides to stop being a detective)

. Realizing that Neuro treats Yako that way because he actually respects her and is often proud of her verges on Mind Screw.
Broken Aesop: Ep. 14 ends with a message about how people shouldn't be so intolerant of other people's cultures. The irony is that this is delivered in reaction to the antics of possibly the most xenophobic and offensive depiction of an American in anime since 1945. Of course, a later chapter reveals that the American was

the first test subject of the electronic drug,

so the Aesop is strongly reinforced, since if Yako and the others hadn't been blinded by stereotypes of Americans, they would have noticed something wasn't right much earlier.
Crossover: In one of the omakes of Muhyo and Roji.
Deconstruction: The three arc villains each do this:

X: X regularly tries to act out a "Not So Different" Remark by trying to find someone with "similar insides" to him in hope he can understand himself. When challenged with Neuro, he uses this said trope to justify wanting to kill Neuro in hopes that they will be similar. Others end up enforcing it for him: Yako, specifically, attempts to reason with him that he is human due to a few traits he has. There's also a large theme of Loss of Identity, as X can't remember who he was and when he inevitably recalls who he is,

it's only because he's brainwashed into it or on the verge of losing everything again.

HAL: HAL, using his electronic drug, forces the evil out of people and turns them into criminals: Good All Along crosses over with lacking a Freudian Excuse or motive for their actions, something Yako notices early on. And as it ends up, What Measure Is a Non-Human? is brought into and raises this question: Can an A.I copied after someone, down to neurons in the brain, really be them?
Demoted to Extra: In the manga Ai is Sai's loyal partner in crime and Foil. In the anime she only appears once as a cameo.
The Determinator: Detective Sasazuka spends over 10 years searching for the perpetrator who killed his family. Averted with

X (Sai)

, who kills people in order to search for his identity and just seems mildly placid with everything.
Driven to Suicide:

Honjou towards the end commits suicide in front of Yako after confessing to being in league with Sicks and sacrificing his own daughter to evil.

Higuchi's parents committed suicide when he was young, which is part of the reason why he's so maladjusted.

Eagleland:

Episode 14, which takes this trope farther than any show before it, which is very far indeed. The killer is an American man who transforms into a muscular caricature with a wildly oversized nose and who hums a nasally version of The Star-Spangled Banner when revealing himself. However, it turns out that Professor Harukawa chose the American as the first victim/test subject of the electronic virus because he correctly thought that other Japanese people would simply assume an American was like that.
In the manga, although the trope doesn't quite come up, it should be noted that it's Americans that bring in a battle cruiser carrying nuclear weapons and that they all have crooked, beak-like noses like the above example.
Karma Houdini: To a certain extent,

Kasai, who managed to survive after having a burning building fall on top of him.

Kid Detective: Subverted in that although Yako is supposed to be the leader of the agency, in fact all the detective work is done by Neuro.
Kid with the Leash: Neuro tells

Sasazuka

that Yako controls him and is taking terrible advantage. Their relationship seems like an inversion, but when Yako is serious

about no longer being a detective,

she does what she wants.
Lack of Empathy: Neuro is a demon, after all. The idea of giving a shit about what beings other than him want or feel generally does not occur to him.
Left Hanging: The anime ends with Neuro promising Yako that he would solve her father's murder, something she had reminisced over the course of the series. What makes this decision confusing however is that in the manga, not only was Yako's father's murder solved, it was Neuro's second case and solved within three chapters of the story opening, and the gratitude and peace Yako felt from this case is what made Yako decide to be Neuro's willing cover (though the threats Neuro imposed at the time helped too). The fact that the murderer was one of the police force also meant that the police were more lenient with her solving their cases at the start, helped by Sasazuka going easy on her because

she's around the same age as his sister was when she died

and that it was his partner who committed the murder.
Lethal Chef: Yako's mother in the manga. Part of Yako's talent with cooking is to enable her to eat anything handy and the other part is allow her to have anything safe to eat. Her mother's food has both resulted in nitro-glycerin and radioactivity as well as food poisoning on about four occasions.
Mad Artist: Including a furniture designer who kills people who look down on furniture, a hair dresser who cuts off people's heads so he can style their hair and a stand-up comic who kills people because it's funny. There is also a singer who killed her friends to make her songs sound sadder, however she is one of the series sanest characters.
Meitantei: Initially subverted. It may seem like Yako is a brilliant detective, but she's really a dense and easily manipulated girl who owes Neuro a big favor. However, while she's not the true "brains" behind the operation, Yako slowly reveals superb talents at reading human intention that Neuro himself cannot match. For a start, without her, Godai wouldn't have stuck around.

She herself becomes a Negotiator at the end of the manga; someone who can solve the mysteries in people's hearts; preferring to help the living instead of avenging the dead.

Monster and the Maiden: Neuro is a demon who literally devours mysteries. He comes to Earth after eating all the mysteries of hell and ropes an otherwise normal schoolgirl, Yako, into helping him be posing as a detective so he doesn't draw attention to himself. Over time, Yako develops a sense of empathy that Neuro lacks due to being a demon.
Motive Rant:

Happens with every single villain, but averted with four people: the three college kids working under HAL were simply doing it because HAL gave them the ability to do so (as they were all fascinated by a way of killing people, but held it back and never acted upon it). Possessed-by-the-Electronic-Drug Higuchi, meantime, has a similar motive and also goes on a rant about an entirely different issue.
But then turns into a Chekhov's Gun of sort when they come across an arsonist who doesn't have a motive.

It indicated that he was under the influence of the Electronic Drug.
Red Oni, Blue Oni: With Sasazuka as blue and Godai as red. The moment Yako sees how much they disagree, she compares them to water and oil.
Sadist Teacher: Apparently Neuro thinks that the best way to help Yako grow is to torture her. He seems to actually have some success with this, but it's also clear that he abuses her with slapstick antics just for fun.
Xenofiction: The series spends a lot of time exploring just how alien Neuro is, and both his value system and biology are extremely important to the plot.
You Are Number 6: Sicks; as well as Setsuna.note
Your Favorite: Yako and Sicks, both to Neuro.

Instead of giving Neuro chocolates for Valentine's, Yako gives him

the wrapping paper. Which is made up of leads to potential mysteries, what he actually eats.

It's both heartwarming and very impressive for Yako, showing that she has grown to understand Neuro despite his inhumanity.
Sicks invites Neuro to meet with him, and

tries to arrange a meal for him by forcing several people to kill, right there, by threatening their families and so on. He's wrong in that it's not the mystery itself Neuro eats, but the psychic energy of the motivation behind it, the twistedness that would drive someone to commit murder and try to hide it. Sicks's sick little tableau was the equivalent of offering a starving man Syrup of Ipecac. And then, since they hadn't pleased Neuro, he killed all of them, meaning that they would never be able to produce a real mystery.

At that point, the reader learns how Neuro acts when he's really, really angry.
---