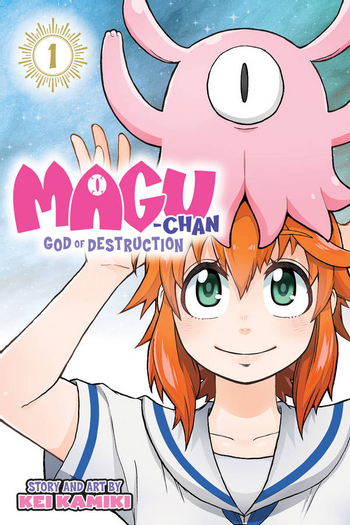 Magu-chan: God of Destruction (破壊神マグちゃん, Hakai-shin Magu-chan) is a manga by Kei Kamiki that ran in Weekly Shonen Jump from June 2020 to February 2022.
Hundreds of years in the past, cultists worshiped Mag Menuek, the chaos god of destruction, in return for using his powers on their enemies. A band of holy knights interrupted one Summoning Ritual, allowing them to seal away the weakened Magu in a crystal.
In the modern era, this crystal eventually washes ashore in a sleepy Japanese beach town, where it is picked up by 2nd-year middle school student Ruru Miyanagi. Despite her hopes to sell it to ease her financial problems, Ruru accidentally breaks the crystal, releasing the god trapped inside.
However, Magu's time in the crystal has resulted in him being severely reduced in power and stature. After reflexively injuring Magu (several times), Ruru decides to take him in as a house guest. Wanting to restore his lost power, Magu decides to start by making Ruru his disciple, using his remaining strength and whatever means necessary to curry her favor. And with other deities reemerging, as well as the Holy Knighthood learning about Magu's unsealing, life in Ruru's little town is about to become much more interesting.
---
Tropes: