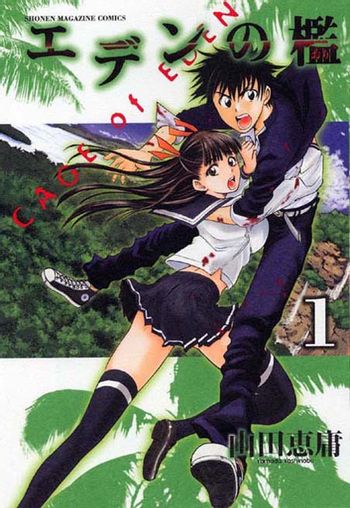 Cage of Eden (original title エデンの檻, Eden no Ori) is a Manga by Yoshinobu Yamada which can be summarized as "Lost, but as a manga."
A class of Japanese high schoolers are on their way back from a trip to Guam when the plane hits a freak turbulence and crash-lands on an unknown island. The place turns out to have an ecosystem stuck some 50 million years in the past, with all manner of dangerous megafauna.
Class clown Akira, who had initially found himself isolated, manages to gather a small group of survivors—a flight attendant, his childhood friend, a reclusive geek, and a friendly delinquent. Together they try to survive in the hostile environment.
However, the most dangerous creatures on the island may turn out to be of the bipedal kind...
There is now a Character Sheet that could use some love.
The manga has now ended with 185 chapters, something that was announced on December 21st 2012
.
---
Contains examples of:
---