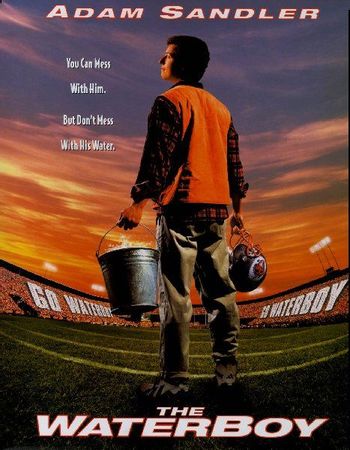 "Now that's some high-quality H2O."
The Waterboy is a 1998 comedy film directed: by Frank Coraci, starring Adam Sandler and Henry Winkler.
Sandler plays Bobby Boucher (pronounced "Boo-SHAY"), a socially inept (but also intelligent), stuttering waterboy for a college football team. Bobby deals with hidden anger issues due to constant teasing and his mother's (Kathy Bates) excessive sheltering. It is discovered that Bobby's anger issues make him an extraordinary football player. This transfers to Coach Klein (Winkler) and the rest of the team.
---
You can mess with him, but don't mess with his tropes:
Bobby:
[deadpan]
Captain Insano shows no mercy.
---