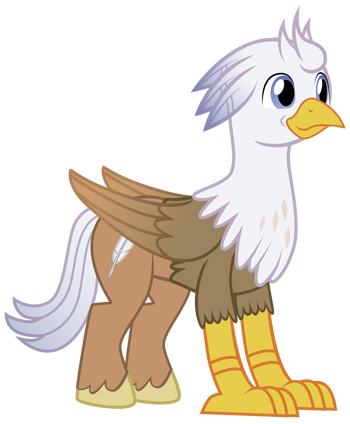 "Okay, first off — and this is a long time coming — I don't consider myself an analyst. An analyst works with hard data and tries to limit any personal input. I am a reviewer. I share my own thoughts and perceptions with the hope that it gives people food for thought, along with a good laugh. Secondly, you think I fear being attacked? I'M SILVER QUILL! I flee for my life twice a week, and three times on a leap year!"
— Silver Quill
Meet Silver Quill. A My Little Pony: Friendship Is Magic Brony who got started on DeviantArt and then one day decided to create a YouTube account to talk about the latest episodes of the show giving a comedic, but also straight-to-the-point review for each one. He sometimes brings guest reviewers on to assist him in giving each episode a deconstruction, talking about what was done well, what wasn't, et cetera. His mix of thoughtful analysis and hammy humor have quickly made him one of the more popular brony analysts.
While other MLP Analysis reviewers usually favor ponies as OC, his stand-in in the videos is a hippogriff. Takes the role of the RED Heavy on TF2 Analysis. Also a sometimes participant in Bronies React.
You can check his YouTube account
and his DeviantArt account
.
---
Silver Quill's videos provide examples of:
---