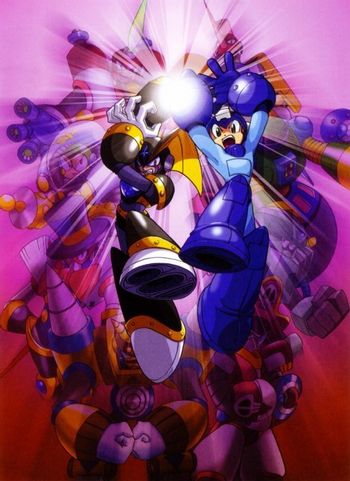 Mega Man & Bass
was released on the
Super Famicom
in 1998 as a
Gaiden Game
to
Mega Man 8
.
It was only released in Japan
under its Japanese title,
Rockman & Forte
, since the SNES was dead everywhere else in the world by that time. It was eventually ported to the
Game Boy Advance
in 2003 where it saw an international release.
The robot leader King is leading a war against humanity. He plans to capture data from all the fighting robots he can find. He already ransacked Dr. Wily's lab and recruited two of his Mega Man 8 Robot Masters. With the other six Robot Masters under his command, King leads a vicious assault against the Robot Museum, hoping to find more data and troops for his army.
Naturally, Mega Man is dispatched to fight King and halt the rampage. Dr. Wily doesn't like the new guy one bit, and dispatches his Dragon Bass to crush King's army. Mega Man and Bass form an uneasy alliance to handle the new guy, unaware that there is a reason for King's Robot War and why Bass is helping Mega Man….
You can choose to play the game as either character. Mega Man has the Charge Shot and slide. He is not very nimble but takes less damage from attacks. Bass has a Double Jump and a High Jump, as well as a dash function. He can also rapid-fire his Bass Buster in seven directions. However, he takes extra damage and his Bass Buster is relatively weak. Effectively, you choose tough stages or tough bosses based on your character. Also, the stages are tiered — you must fight Cold Man, Astro Man, or Ground Man first before more stages open up.
In addition, there are 100 data CDs to be found. Each one provides a picture and some information on a Robot Master or character in the Mega Man (Classic) universe (up to Mega Man 8).
The game also received a Japan-only follow-up for the WonderSwan called Mega Man & Bass: Challenger from the Future.
---
This game contains examples of:
---