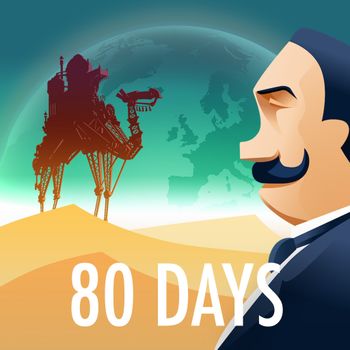 80 Days is an interactive fiction game loosely based on Jules Verne's Around the World in Eighty Days. Published by Inkle and written by Meg Jayanth, it was originally released in 2014 on iOS and Android only, but the game was ported to PC in 2015 along with a major update and is now available on Steam and other vendors.
The year is 1872, and Phileas Fogg has made a wager that he can circumnavigate the world in eighty days. The player takes the role of his French valet, Passepartout, and it is his job to arrange travel, purchase and sell items to manage their finances, and ensure the general health and happiness of his master Fogg.
The game is set in an alternate history steampunk version of Earth vastly de-centered from Europe, and does not shy away from heavier issues such as colonialism, imperialism, and technological progress vs. traditional culture, all while preserving the feel of an adventure narrative. There are mechanical camels and elephants, steamships and airships, flying machines powered by the life-forces of actual birds and still more technological wonders to travel upon.
---
80 Days contains examples of:
---