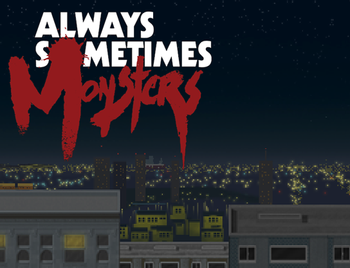 "Choice is an evaluation of cost and benefit... Circumstance dictates the evaluation... Consequence takes care of the rest... In this system there can be no right or wrong."
Vagabond Dog's Always Sometimes Monsters
puts you in the shoes of a protagonist of your own choosing. A year ago, the host of a fancy party you were attending with your significant other picked you out of the crowd and gave you the chance to launch your dream career.
Just one year later, your life's on the verge of complete collapse. Your landlord's ready to kick you out for missing too many payments, your career's in the toilet, your life in shambles... and the love of your life? They're about to marry somebody else.
But maybe... maybe you can fix this. With only thirty days to turn your life around, every decision you make can take you one step closer to salvaging things... or dig you even deeper. Then there's the fallout others might suffer for your choices...
So... How far are you willing to go? What are you willing to sacrifice, and who are you willing to hurt in the process?
Always Sometimes Monsters was made available on Steam May 21st, 2014. It can also be purchased over here.
A sequel entitled Sometimes Always Monsters was released on April 2, 2020.
---
---