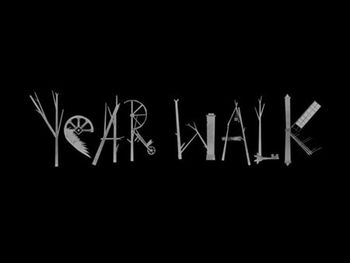 "Year Walk" is a 2013 point-and-click first-person Survival Horror and adventure iOS side-scroller puzzle game developed by Simogo, later also released to the computer market via Steam, and then in 2015 on the Wii U with the help of Dakko Dakko. The game revolves around an old Swedish tradition, the Årsgång (year walk) along with other Swedish folklore.
The story starts with the protagonist meeting a girl in a windmill. She tells him that, though she is fond of him, she has been asked to marry someone else, and she has promised to give her suitor her answer the coming year... and the current day is last of the old year. Though the question of making a year walk is brought up, she adamantly refuses, reminding the protagonist what happened to her cousin as a reason for why they should not do anything foolish. This motivates the protagonist to go on a year walk, a tradition that will supposedly show him what his future holds, all on his own.
---
Year Walk contains examples of:
---
Walk again?
---