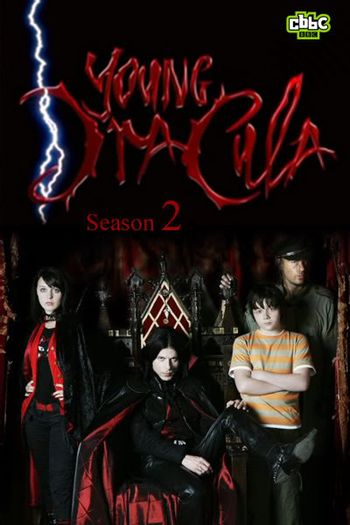 Young Dracula is a British children's television series on CBBC, loosely based on the children's book by Michael Lawrence. It was directed by Joss Agnew. The first series was broadcast in 2006, and the second series, which started in late 2007, concluded in early 2008. After being cancelled and then uncancelled, the third series started in late 2011. The fourth season began on the 29th October 2012, and the fifth in January 2014.
In the beginning, all 12-year-old Vlad wants is an ordinary life, and he's hoping that his family's move to Wales might be just the thing to provide it. Regrettably, the family is moving from Transylvania, where they've been chased out by an angry mob, and the family name is Dracula, so the chances of a normal adolescence in the Welsh 'burbs are slim.
Vlad's dad, the Count, wants him to hunt "breathers" (that is, humans) with more enthusiasm and to take over the family business. Mum has run off with a werewolf and the family servant eats cockroaches. Vlad's philosophy, however, is "more blending, less biting". His older sister Ingrid, by contrast, wants to be a cruel and despotic vampire queen, but is constantly ignored by the Count (when he isn't belittling her).
Down the road in the village, young Robin Branagh dreams of becoming a vampire and avoiding his family's camping holidays. Teaching at the local school is woodwork teacher and would-be vampire hunter Eric van Helsing, whose son Jonathan ("Jono") is just as embarrassed by his father as Vlad is by his.
As of Season Three, the setting has changed somewhat. After the events of the previous series, and the castle burning down, the Dracula clan have been forced to relocated and to hide from the slayers in a school. Vlad learns how to master his powers from a private tutor, Bertrand. They are soon joined by their half-brother Wolfie and Erin, a young half-fang* really a human with slayer training who Vlad soon develops a crush on, whilst Ingrid continues in her thwarted quest for world domination.
Season Four sees Vlad's enforced, uneasy peace between vampires and slayers threatened from all sides. Vlad is forced into an Arranged Marriage, a new vampire Malik is plotting something, and Erin is having doubts about her and Vlad's relationship. Skeletons fall out of the faily cupboard and it all gets very Shakespearean.
Season Five continues the trend of getting Darker and Edgier, with revelations left right and centre, and the introduction of Wifi to the Vampire world.
---
Young Dracula includes examples of:
---