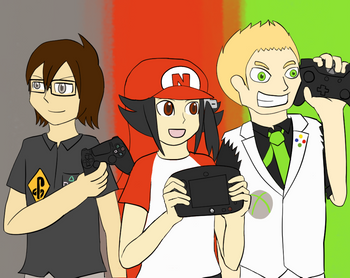 A webcomic by our very own Zanreo, started in February 2013 and hosted on ComicFury and Tapastic, Consolers is a webcomic starring Anthropomorphic Personifications of video game companies. It covers video game history, current events, and various fun facts and stories about the companies, focusing (arguably) on the "big 3" console creators Nintendo, Sony and Microsoft.
Most of the news- or fun facts-based comics are one-page gags, often presented in a four-panel format, while history-based arcs tend to go over several pages.
"Consoler", by the way, is an in-comic term for a game company who makes their own console. Of course, these are very big, mighty and important figures in the industry, but being a Consoler also carries a lot of risk and responsibility to keep that status. And you're constantly fighting with the others.
Has a Characters page.
Strips can be found here
and here
.
---
Consolers provides examples of the following tropes:
---