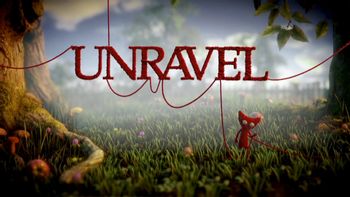 Unravel is an adorable, physics-based puzzle platformer from Swedish developer Coldwood Interactive.
In it, you play as a small creature made from yarn called, appropriately enough, Yarny. A yarn string, which trails endlessly behind Yarny, can be affixed to certain points in the environment, allowing you to jump higher, cross gaps, affix yourself to a floating kite, and more.
A sequel titled Unravel Two was announced at E3 2018 on June 9, 2018... and then released the same day. Unravel Two is a two-player game that follows a pair of Yarnys, one red and one blue. The red Yarny is shipwrecked on an island and finds his yarn has been cut short during the crash; he then finds the blue Yarny in a similar condition, and the two join their cut ends together. The game then follows the two conjoined figures as they case after a small spark released when they bonded, and requires them to cooperate with one another to cross difficult obstacles and gaps that they can't manage alone.
---
Tropes:
---