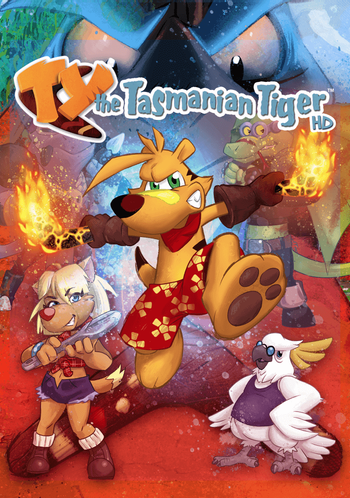 TY the Tasmanian Tiger is an Aussie-made video game series by Krome Studios about Australia and its many wondrous (and often dangerous) things, utilizing Funny Animals.
The first game chronicled the story of TY, the eponymous Tazzy Tiger trying to stop the villainous Boss Cass from reclaiming five talismans and unsealing the Dreamtime, which would let the cassowary wipe out all those mammals who usurped the dinosaurs' place. In a complete coincidence, recovering all the talismans allowed TY to reunite with his family and put Boss Cass behind bars. The game was a Collectathon Platformer based in traditional Australian outback locales and emphasized Ty's use of his different equippable boomerangs in combat and exploration.
TY the Tasmanian Tiger 2: Bush Rescue began with a full-scale assault and jailbreak, which of course went off with barely a hitch. Freed, Boss Cass began his plans to conquer Southern Rivers through more traditional means... military force. TY, his brother Sly, ostensible girlfriend Shazza, and friends form the Bush Rescue group. TY then goes around Southern Rivers solving everyone's problems and fighting a few boss battles and Mooks until he puts an end to Boss Cass's plans. This saw a series Genre Shift into a platformer mixed with a Wide-Open Sandbox, with emphasis given to new gameplay styles like mech-oriented Beat 'em Up and driving sequences.
TY the Tasmanian Tiger 3: Night of the Quinkan has TY going to rescue the mysterious Bunyips from the Quinkan, and in the process of returning home, get stuck in limbo for six months. When he does finally return, Southern Rivers is devastated, the Quinkan have the few survivors bottled up in what remains of his hometown of Burramudgee, and Boss Cass has allied with them and is the puppet ruler of the land. Though Cass isn't too happy about being on a leash, he's unable to actively oppose his masters, and helps TY — as long as it's convenient and furthers his own plots — in getting rid of their evil overlords. This game advanced the sandbox elements from TY 2 even further, including new vehicle segments, a stronger emphasis on combat, and a Darker and Edgier plot.
In honor of commemorating TY's 10 years anniversary, developer Krome Studios created a TY iOS app called TY the Tasmanian Tiger: Boomerang Blast, a sort of First Person Arcade Shooter with multiple boomerangs... including a stick of all things.
TY the Tasmanian Tiger is the fourth game of the main series. Boss Cass "retires" on his private resort island of Cassablanca, only strange happenings to be occurring around Coolarangah. It's up to TY and Bush Rescue to investigate. In contrast to its predecessors, which were all 3D platformers, it is a 2D sidescrolling platformer on Windows 8. It was ported to Steam two years later as TY the Tasmanian Tiger 4.
In March 2016, it was announced that Krome will port the first game in the series to Windows and macOS with HD graphics, and have the released the other two subsequent years after. September 2019 saw the Kickstarter campaign of the first game's remaster coming to current gen consoles, with additional skins to boot. Backers will also receive a free digital comic penned by the co-creator himself. The console versions were released in the summer of 2020 as TY the Tasmanian Tiger HD. A Kickstarter campaign for an HD remaster of TY 2 for the PS4, Xbox One, and Nintendo Switch was held in January 2021, achieving its target goal in just 8 ½ hours. The remaster was released in Q2 2021.
---
Tropes used:
---