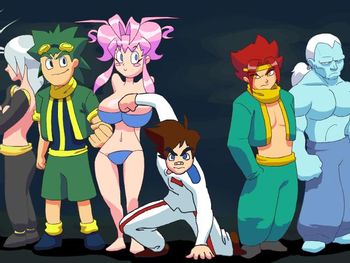 WHAAAT is this page?
Some kind of white and gray webpage that'll
ruin your life
.
A bizarre series created by Egoraptor that massively parodies poorly animated and dubbed Shonen anime. It has three episodes and a fourth episode was planned, however, Egoraptor stated here
that the show is on permanent hiatus.
It follows the adventures of Kenstar and his True Companions on a vaguely defined quest to kill the Big Bad Galacticamaru.
Episode 1 can be seen here
, episode 2 here
and episode 3 here
.
Compare to: Kawaii Battle Stars and Large Bagel.
---
WHAAAAAAAAT are these tropes?
Accent On The Wrong Syllable: Kenstar and Yusuke fall victim to this frequently.

Kenstar: What IS this!? WHAT is this secret powUR!?

Action Bomb:

The Green Guy's number one ability.

Action-Hogging Opening: The opening contains a lot more action and scenery than the rest of the show.
Animated Actors:

Kenstar begins to quote The Green Guy before realizing that it's not his line in episode 3.
Taken into full-effect when The Green Guy's actor is pissed over his character's Heroic Sacrifice, thus removing him from the story after three episodes and only allowing for a flashback... in episode 23. He is not amused, leading to an understandably hilarious use of a Dub-Induced Plot Hole and Viewers Are Morons.
---
THERE... is an index page OVER THERE!

Who cares about the stupid index you fools? We are not indexing works!
---