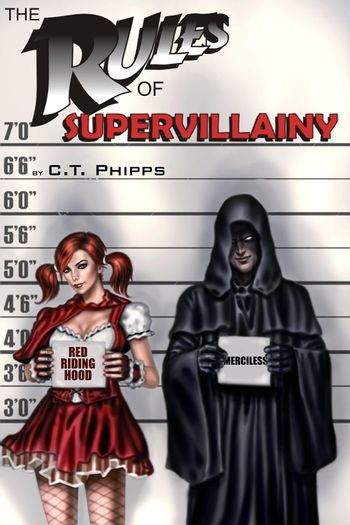 The Supervillainy Saga is a humorous Urban Fantasy Capepunk superhero series written by C.T. Phipps, and published by Crossroad Press.
Gary Karkofsky is an ordinary guy with an ordinary life living in an extraordinary world. Supervillains, heroes, and monsters are a common part of the world he inhabits. Yet, after the death of his hometown's resident superhero, he gains the amazing gift of the late champion's magical cloak. Deciding he prefers to be rich rather than good, Gary embarks on a career as Merciless: The Supervillain Without Mercy.
But is he evil enough for the worst city in America?
The series follows Gary as he travels through a four-color world full of Expies of popular superheroes and the crazy situations he gets into as a result. The book often Lampshades the use of tropes and their implications even as it treats their plots seriously.
The series contains the following books:
<!—index—>
The Supervillainy Saga vol. 1 (Books 1-3)
<!—/index—>
---
The series contains the following tropes:
---