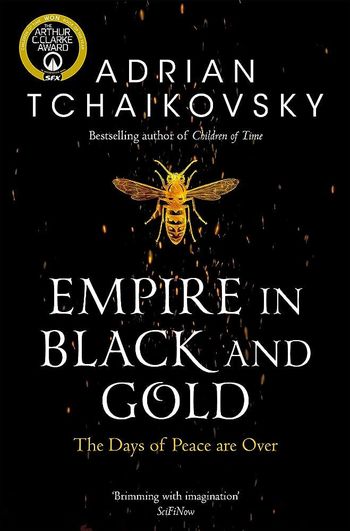 Shadows of the Apt
is a fantasy series by
Adrian Tchaikovsky
. The basic plot is fairly familiar: a
single visionary
must persuade his people of the imminent threat from a
rapacious, conquering empire
. The main twist is the idea of the insect-kinden; all humans inherit powers based on the idealised abilities of a particular arthropod.
The books (so far) include:
Empire in Black and Gold (2008)
Dragonfly Falling (2009)
Blood of the Mantis (2009)
Salute the Dark (2010)
The Scarab Path (2010)
The Sea Watch (2011)
Heirs of the Blade (2011)
The Air War (2012)
War Master's Gate (2013)
Seal of the Worm (2014)
The website also contain loads of short stories and histories based in the same world.
---
Tropes found in this series:
A God Am I:

All of the Slug-kinden of Khanaphes. They actually have the stones to back up their claims though.

Empress Seda and her hunger for recognition of her power.

All There in the Manual: Quite a bit of back story and history of the Lowlands can be found on the Shadows of the Apt website, along with other short stories based in that world.

Quite a few of the characters/events from the short stories are woven into the main plot. The duel in "Ironclads" is brought up more than once in Heirs of the Blade (and the ghost story Avaris tells is most likely to be the same story as "The Dreams of Avaris").

Ancestral Weapon:

Tynisa

's Mantis rapier, passed on by Tisamon.
Arbitrary Skepticism: Che knows that people can gain powers through meditation, among them telepathic hive minds, ultraviolet vision, wings, and the ability to shoot energy from your hands. She initially refuses point blank to believe in "magic." In fact, nearly all Apt characters fall into this category.

This is because magic works in an entirely different way to 'Art' as noted when

she noticed something off about Stenwold's agent in Helleron

, whereas the people in this world can identify something as an 'Art' immediately even if they haven't seen it before.
In addition, it is stated on the blog of the author that everyone has basically outgrown the silly superstitions of religion. The Inapt believe in spirits but only the ones that can be commanded, not worshipped.

Armor Is Useless: Zig-zagged, as a result of the arms race against the Wasps.

Sentinel plate armor has been the height of protection for thousands of years, and its wearers are virtually invincible. For this reason, Sentinels form the core of the Wasp infantry.
However, then the snapbow is invented — an air-powered firearm that easily penetrates Sentinel armor, rendering that whole class of infantry obsolete.
But then the Iron Glove arms manufacturers develop a new lightweight and extremely strong alloy which is quickly worked into advanced body armor and walking tanks. This makes them nearly invulnerable, even the armor-piercing snapbow bolts just glance off them. However, this alloy is only available in limited quantities.

And Then What?: What Thalric says to

his would-be assassin

in Dragonfly Falling.
Clock Punk: The world is in a transition phase between the two technologies, the Apt parts of it anyway.
The Dreaded: The Worm,

aka the Centipeded-kinden

, all the Inapt races have an atavistic fear of them to the point where

giant centipedes are killed on sight

. For the Sea-kinden, it's the Starfish-kinden. These are a race of mindless, violent savages that exist only to kill and have great regenerative powers, to the point where chopped body parts regrow into new people.
Evil Sorcerer: Uctebri

is a Mosquito kinden sorcerer who offers to give Emperor Alvdan immortality if he can have Alvdan's younger sister Seda. What Uctebri actually intends is to turn Seda into a magical tool and he's the one who assassinates Alvdan. After Seda is corrupted, she has her former mentor Uctebri killed and she becomes an evil sorcerer too

.
Hand Blast: Wasp-kinden have the "sting" as their most common Art, letting them shoot bolts of energy out of their palms. Therefore, no Wasp is ever technically unarmed, and they consider open hands a threat in their culture. Their stings usually don't have the same range as a proper bow or crossbow, but they can kill just as easily.
Heel–Face Turn: Thalric grows increasingly disillusioned by the Empire and falls in love with Che, leading him to abandon the Empire.
Loads and Loads of Races: Many kinden feature distinct named characters with perspective narratives. There are an unknown number of kinden in-world but several dozen are confirmed.
Lonely at the Top: Alvdan takes no pleasure in any part of the actual work of being Emperor, and has grown jaded by his limitless political power and paranoid about others attempting to take it from him. He's an unusually unsympathetic example, though, since one of the few things he does enjoy is wielding his power over those weaker than himself, especially his sister Resa and his concubines.
Meaningful Rename: The Butterfly-kinden change names after major changes in their life.
Mook Horror Show:

The Sea-kinden liberation of Collegium in book 9 plays out like this, starting with one of the Wasps' invincible Sentinel tanks being dragged underwater by a gigantic tentacle, and continuing as an entire army of bizarre-looking kinden no one has ever seen before marches right out of the ocean and starts killing Wasps.
Nothing Is the Same Anymore: Pretty much every character has their world turned upside down and is uprooted from their old life.

The Sea Watch has to take the cake though. Despite some foreshadowing from previous books and online material, hints from Word of God, and even the front cover of the book itself, nothing prepares for

the reveal that the "Sea-kinden" aren't just insect kinden that live underwater but are kinden of entirely non-insect-related origins, and that these kinden are divided into families of unrelated kinden. Considering that the histories of the insect kinden are still a mystery to the reader, it's a pretty big shock to be suddenly introduced to Octopus- and Jellyfish-kinden. It also raises even more questions about how much Scyla (and her teachers) truly knew about the different types of Kinden.

This is basically what Adrian Tchaikovsky is trying to do. He says that he's trying to subvert the whole idea in fantasy stories that after an event, everything goes back to normal.
Outgrown Such Silly Superstitions: The Apt in general, Che in particular, have outgrown the silly superstitions of magicnote . This being a fantasy book, they are wrong. Meanwhile, everyone's outgrown the silly superstition that gods exist, as well as old wives' tales of unusual kinden both of which in a manner return in Seal of the Worm.

Tchaikovsky's later series Echoes of the Fall, set in the same world but on a different continent, goes into a bit more detail about what happened countless milennia ago to make the kinden reject the idea of gods so thoroughly

while also confirming that gods do, after a fashion, exist in this setting

.

Passing the Torch: The series really splits into two

after the death of Emperor Alvdan

, in the 2nd phase of the series two new important characters are introduced, the Collegium students - the Antspider and Eugen Leadwell.

These two would be the ones to go to Capitas to see the end of the war and the Wasp Empire, something that none of the original main characters will do. And it'll be these two who will lead the rebuilt Collegium in the epilogue
The Power of Blood: Type AB, with a touch of Type O when it's used in prophetic dreams. Surprisingly enough, the Mosquito-kinden have a bit of a thing about blood...
Proud Merchant Race: The Beetle-kinden of Helleron also to a certain extent the Fly-kinden.
Proud Warrior Race Guy: All over the place.

The Mantis-kinden are peerless fighters, trained from birth to be perfect killing machines. Perhaps related, there aren't many of them. No element of their society does not involve violence, including their theatre, which is mostly made up of tragedies about doomed warriors. They have no discipline, having instead suicidal bravery.
The Ant-kinden are peerless soldiers, their mindlink Art giving them instant long-distance communication and perfect battle coordination. Their entire population is expected to be capable of taking up arms, and while they're led by kings and queens, they're non-hereditary positions filled by the best tactician/strategist in the whole city-state.
The Wasp-kinden are consciously trying to become this, and they've generally succeeded - while they don't quite have the effortless discipline and coordination of the Ants, they've successfully built a modern military out of a bunch of squabbling clans, with all the organization that implies, and make up for their shortcomings against the Ants with technological advantages.
Sadistic Choice: In Salute the Dark, General Tynan tries this on Stenwold. Subverted in that a Deus ex Machina prevents Stenwold from having to make the choice.
Schizo Tech: Because of the divide between the Apt and Inapt races, technology levels vary tremendously. For the Inapt, even the act of trying to use a doorknob is impossible (doors for Inapt are pulled open by a looped rope). The highest weapon achievement that the Inapt have are longbows. Amongst the Apt races, there's a gap in high technology, the Ants are conservative and are decades or even a century behind in tech in comparison to the Beetles. The Apt also have oddly limited mastery in gunpowder technology - they haven't been able to make guns that a person can carry, but they can use it for artillery and vehicle weapons. However the Apt are capable of creating walking machines that are capable of highly articulate movement, something that our technology hasn't quite mastered. One mad scientist in the Collegium even created his Lightning Engine, a Lightning Gun specifically designed to destroy aircraft.
White Sheep: As it turns out in Heirs of the Blade,

Salma

was this for his family.
Worthy Adversary: Quite a few of the Imperial high command are presented at least somewhat sympathetically.

All weapon masters view each other this way. It also happens to be the traditional way of seducing a Mantis.
The Pilots of the Exalsee are compared to a dueling society; they all know and respect each other, some are very close friends, and if they were to find themselves pitted against one another their feelings wouldn't change. However, this wouldn't stop them from fighting to the death and shooting each other out of the air. Probably the best example of this is between Taki and

Axrad (a Wasp pilot who seeks her out for an Air Duel during the invasion of Solarno)

Stenwold and Thalric are worthy adversaries as opposing spymasters and nearly friends later in the series if it wasn't for the fact that Stenwold and his spies don't trust Thalric enough to let him become that close. However, it is clear that Thalric regrets this fact and often despairs about how he has more in common with Stenwold's friends than he does with any of his own kin.
---