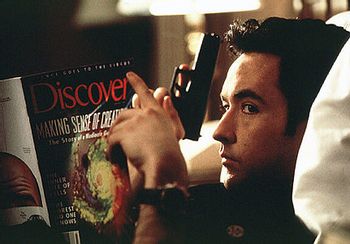 Martin: Hi, I'm Martin Blank, you remember me? I'm not married, I don't have any kids, and I'd blow your head off if someone paid me enough.
Grosse Pointe Blank is a 1997 romantic comedy action film about an assassin going home to attend his 10-year high school reunion. Hilarity ensues. The film stars John Cusack (who also receives a writing credit), Dan Aykroyd, Minnie Driver and Joan Cusack.
Martin Blank is a government-trained freelance hitman living under a decade-long existential crisis. When his latest job takes him to his old home town of Grosse Pointe, Michigan, on the very weekend of his high school reunion, his worlds collide and he's forced to confront some dangling threads of his past life. Complicating matters is the unwanted attention he's receiving from his professional rival Grocer, who's given him an offer Blank can't refuse to join his new Weird Trade Union of assassins. Blank has to dodge hitmen, elude the NSA, find his target, and (most alarmingly) reconnect with the girl he abandoned on graduation day.
Final film for Barbara Harris, who appeared as Martin's mentally ill mom.
---
Contains examples of:
---