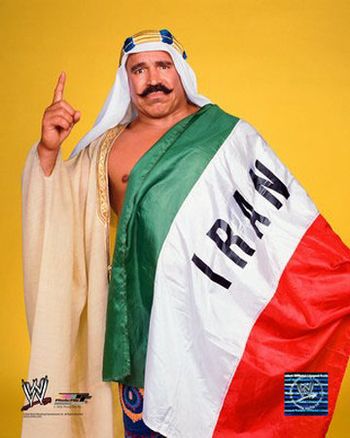 Insane. Completely, utterly and wonderfully insane. That's the only way we can describe the Iron Sheik, who in recent years has gone from forgotten Cold War wrestling villain to the nutty Iranian grandpa we all wish we had.
—
RD Reynolds
,
The WrestleCrap Book Of Lists!
, "The 6 Wrestlers Who Must Have a Reality Show"
If there was ever any wrestler who best exemplified the Foreign Wrestling Heel character in Professional Wrestling, especially in WWE's "Federation years," The Iron Sheik was it.
Born Hossein Khosrow Ali Vaziri (March 15, 1943 — June 7, 2023), this Iranian-born Olympic wrestling competitor and coach made a name for himself in early-'80s WWF, where he won the WWE World Heavyweight Championship
from Bob Backlund, breaking the former champion's six-year title reign...only to drop it the next month to Hulk Hogan, kicking off the Hulkamania craze. His appearances would be sporadic for many years after that, seemingly fading into obscurity in the pro wrestling scene.
And then, in the 2000s, RF Video decided to do a shoot interview with him...
He was inducted into the WWE Hall of Fame in 2005.
Not to be confused with The Iron Chef, or with his arguable predecessor The Sheik.
The Iron Sheik passed away on June 7, 2023, at the age of 81.
---
"SHEIKY'S TROPES NUMBER ONE! FUCK THE HULK HOGAN!":
---