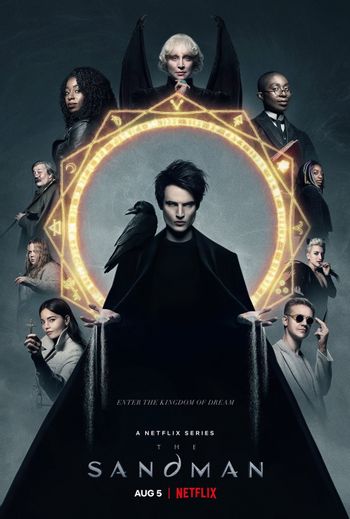 "The dreams and nightmares no longer seem to recognize their master. I will remind them."
— Dream of the Endless
The Sandman is a 2022 live action television adaptation of the 1989-1996 comic book series of the same name, developed by author Neil Gaiman, David S. Goyer, and Allan Heinberg for Netflix. The first season fully adapts the first two volumes of the comic (Preludes and Nocturnes and The Doll's House), with a partial adaptation of the third volume (Dream Country) and a tease of the fourth volume (Season of Mists). A second season is confirmed to adapt stories from multiple volumes.
Tom Sturridge stars as Lord Morpheus, aka Dream, a long-lived and powerful being who presides over the Dreaming, the metaphysical plane that houses people's dreams. Having been trapped on Earth for over a century following a summoning ritual by Roderick Burgess (Charles Dance), Dream deals with the fallout of his disappearance and other threats to the stability of reality.
Other cast members include Kirby Howell-Baptiste, Mason Alexander Park, and Donna Preston as Dream's siblings Death, Desire, and Despair, Jenna Coleman as Johanna Constantine, Vivienne Acheampong as Lucienne, Asim Chaudhry and Sanjeev Bhaskar as the Biblical Cain and Abel, David Thewlis as Doctor Destiny, Kyo Ra as Rose Walker, Ferdinand Kingsley as Hob Gadling, Boyd Holbrook as the Corinthian, and Stephen Fry as Gilbert. Patton Oswalt provides the voice of Matthew the Raven, and Mark Hamill the voice of Mervyn Pumpkinhead.
Compare DC Showcase: Death, Lucifer (2016).note An adaptation of the spinoff comic Lucifer The latter's version of Lucifer is unrelated to this show, with Gwendoline Christie taking over the character for this adaptation.
The first ten episodes of the show premiered on August 5, 2022. A bonus episode, adapting "A Dream of A Thousand Cats" and "Calliope" from the comic's third volume Dream Country, was released on August 19th, 2022. The series was officially renewed for a second season on November 2, 2022.
Previews: Behind the Scenes,
First Look,
Date Announcement Trailer,
Official Trailer,
IGN "Lucifer" Clip,
IGN "Death" Clip,
The World of The Endless.
---
Provides examples of:
---