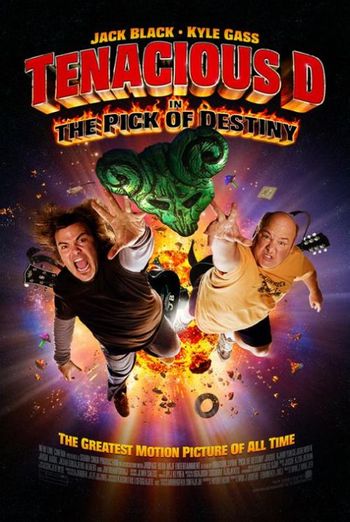 "A long-ass fucking time ago, in a town called Kickapoo
There lived a humble family, religious through and through
But yea, there was a black sheep, and he knew just what to do
His name was young J.B. and he refused to step in line
A vision he did see-eth, fucking rocking all the time
He wrote a tasty jam and all the planets did align..."
— "Kickapoo"
A 2006 film starring Tenacious D founders Kyle Gass and Jack Black, known in the story as Jables and Kage. It's a spin off of a lesser known HBO series that premiered back in 1997. In it, the explicit details of the band's origins are explored, and a strong change in dynamic is observed (from just sitting around doing random things to sitting around doing random things and going on an adventure on the big screen).
The film has two main parts to the plot. The first part deals mainly with the formation of the band. In the beginning, Jables, a young rocker living in an oppressive, religious household, prays to a poster of Ronnie James Dio, and is given a vision of his future. He is bidden to run away from home to California, where he is to meet his best friend and band partner. After traveling far, he meets this man, Kage, who turns out to be something of a bum wanna-be. Kage gives him extensive rock "training."
The second part involves the two trying to create a masterpiece song to pay their rent. During a jam session, they stumble onto the secret of an ancient rock artifact known as the Pick of Destiny. It happens to be Satan's tooth. The two then go on an adventure to retrieve said artifact, and get into all sorts of trouble along the way.
The movie, like the band itself, has a strong cult following.
---
This film provides examples of:
(to the tune of "Für Elise") If you think it's time to fucking rock
And fucking roll, out of control
Well, then you know you've got to rock the block
And fucking suck my fucking cock
'Cause when you rule, you fucking school
All of the fools out of their jewels
'Cause if you think it's time to, if you think it's time to, if you think it's time to fucking rock...
A running gag with the D in general, mixing pretentious-sounding mythological language with tons of swearing.
---