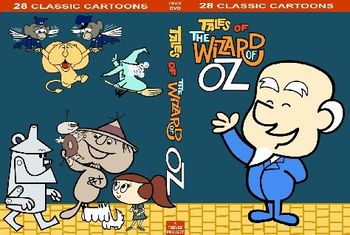 An Animated Adaptation TV series of The Wonderful Wizard of Oz books and the 1939 MGM film, notable as being the first traditionally animated TV series produced by Rankin/Bass Productions (formerly known as Videocraft International). A total of 125 shorts were produced in 1961 and aired in First-Run Syndication, often with its sister series, the stop-motion New Adventures of Pinocchio.
What else was notable about this adaptation was giving certain characters names and new personalities. The scarecrow was named "Socrates Strawman", which was an Ironic Name due to him being The Ditz (since he lacked a brain), the tinman was named "Rusty" and was typically a bully and a jerk to others (due to him not having any heart), and the cowardly lion was named Dandy Lion, but remained his usual cowardly self. Usually, they would try to get what they desire from the Wizard, who could actually perform magic (with his specialty being card tricks), or Dorothy and Toto would help them out of a jam, while trying to avoid (and thwart) the Wicked Witch of the West. The animation production was done in Canada by Crawley Films, ensuring it a home as early morning kids' entertainment on Canadian television well into the 1980s.
In 1962, Dell Comics published a single-ussue Comic-Book Adaptation (Dell Four Color Comics #1308, Tales of the Wizard of Oz) which retold the first few episodes of the series, and Dorothy's arrival in Oz, in kind of a Broad Strokes way.
In 1964, a TV special loosely based on the series was produced, "Return to Oz," (no relation to the Disney live-action film of the 1980s), with refined, slightly more complex character designs and a few recast voices.
From 2003 to 2005, the series was available on Comcast On Demand. Several episodes can also be found on YouTube.
---
Tales of the Wizard of Oz provides examples of:
---