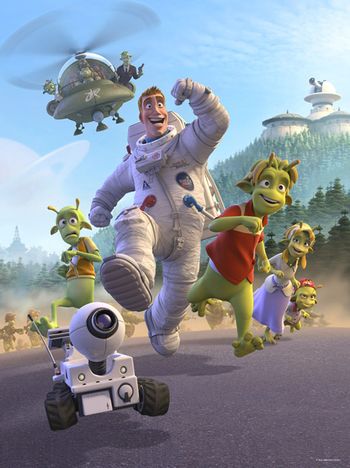 "General, I know what you're afraid of, and it's not Chuck. It's not monsters or aliens. It's the unknown. I've spent my whole life running from it, and I think maybe you have too, but I'm telling you the unknown isn't something to be afraid of. It can be your best friend. And just when you think that it means the end of everything you know, it's really just the beginning."
— Lem, to General Grawl
The first animated film by TriStar Pictures.
Planet 51 is a Spanish/American All-CGI Cartoon feature from 2009. The premise: Human astronaut Captain Charles "Chuck" Baker (Dwayne Johnson), accompanied by an exploration robot named Rover, lands on the eponymous planet, which is supposedly uninhabited. However, Planet 51 is populated, by green-skinned humanoids whose world strongly resembles 1950s suburban America. The aliens are also paranoid about being invaded by another planet, so Chuck's appearance causes unintentional havoc, and he's soon being hunted by the military. Chuck befriends an alien teenager named Lem (Justin Long), a worker at a local observatory; Lem protects the astronaut as he struggles to return to his ship, which will automatically take off after a preset time limit whether Chuck is aboard or not.
---
Tropes:
---