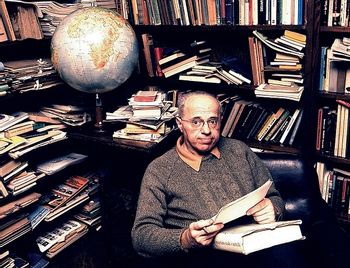 "According to Lem's Law, "No one reads; if someone does read, he doesn't understand; if he understands, he immediately forgets".
— One Human Minute
"[...] Lem is probably a composite committee rather than an individual, since he writes in several styles and sometimes reads foreign, to him, languages and sometimes does not [...]"
—
Philip K. Dick
's
letter to FBI
Stanisław Lem (12 September 1921 – 27 March 2006) was a Polish novelist, most credited for his Science Fiction writings. His works range from philosophical books and analyses to "tall tales", to light and darkly comic satire; and he enjoyed subverting many common genre tropes. He is one of the most recognized and respected Polish writers, as well as one of the most prolific science-fiction writers. In 1996, he was named a Knight of the Order of the White Eagle (Poland's highest decoration).
He loved word-plays, making up new words and divining the future of civilisation from them; it was one of the many ways in which he subjected plot to paradoxical associations rather than to the straight and narrowly reasonable prognoses. He was particularly fond of satirizing religion, technology, and human foibles, typically with a sharp and incisive wit. Later in his career, he grew increasingly critical of technology, particularly the Internet, which he considered little more than a gathering of idiots. Many of his works, both novels and short stories, feature the recurring character Ijon Tichy, an intelligent, accident-prone adventurer who switches between the Only Sane Man and an Unreliable Narrator, occasionally veering into Parody Sue.
Lem had a low opinion of most of science fiction, and thought that the existence of the Sci Fi Ghetto was justified, not because the genre is inherently worthless, but because the authors haven't used the possibilities in it. The only contemporary author he considered worthwhile was Philip K. Dick; Dick did not return his respect, and considered Lem's attacks on American science fiction to be unjustified and insulting. At the same time, he also became a target of Dick's increasing paranoia.note It stemmed from a series of publishings of foreign science-fiction in communist Poland, signatured by Lem - Dick received payment, but in Polish złotys, which he couldn't exchange for dollars. He was already extremely paranoid, so it added fuel to the fire. Note, Brian Aldiss, having been paid in złotys a couple of years later, and visiting Poland at the time (just how, we have no idea) simply bought beer for the entire fantasy convention and was done with the problem. Despite Lem's views, he was defended by Ursula K. Le Guin in his conflict with the Science Fiction and Fantasy Writers of America.
His works include:
<!—index—>
The Astronauts (Astronauci, 1951)
The Star Diaries and Memoirs of a Space Traveler (Dzienniki gwiazdowe, 1957, expanded 1971; trans. in English 1976 and 1982)
Eden (1959; trans. 1989)
Return from the Stars (Powrót z gwiazd, 1961; trans. 1980)
Solaris (1961; trans. 1970)
The Invincible (Niezwyciężony, 1964; trans. 1973)
Fables for Robots (Bajki Robotów, 1964; the American translation is called Mortal Engines [1977])
Summa Technologiae (1964, second ed. 1967; trans. 2013)
His Master's Voice (Głos Pana, 1968; trans. 1983)
The Cyberiad (Cyberiada, 1967; trans. 1974)
Tales of Pirx the Pilot and More Tales of Pirx the Pilot (Opowieści o pilocie Pirxie, 1968; trans. 1979 and 1982)
A Perfect Vacuum (Doskonała próżnia, 1971)
The Futurological Congress (Kongres futurologiczny, 1971; trans. 1974)
Memoirs Found in a Bathtub (Pamiętnik znaleziony w wannie, 1971; trans. 1973)
The Chain of Chance (Katar, 1975)
Golem XIV (1981; trans. 1985)
Fiasco (Fiasko, 1986; trans. 1987)
Peace on Earth (Pokój na Ziemi, 1987; trans. 1994)
<!—/index—>
---
His work includes examples of:
---