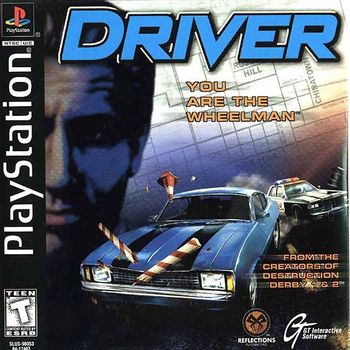 "Truth is, Tanner, three years on the department and you're still the best driver I got; we don't get too many ex-racing boys in here."
—Lt McKenzie
Take the 3D open-world gameplay of Grand Theft Auto III, put the player in the role of the police, set it in a '70s-esque Retro Universe, and beat Rockstar Games to the punch by two years, and you have Driver. In Driver, you play as Tanner, an NYPD detective who, due to his driving skills, is sent undercover to investigate a criminal syndicate, taking him on a journey to Miami, San Francisco, Los Angeles and back to New York City. The game was styled after '60s and '70s car chase films like Bullitt, The French Connection and The Driver, to the point of including a "Director's Mode" that allows you to place cameras during replays to follow your action.
Developed by Reflections Interactive and released in 1999, Driver pushed the PlayStation to its limits technologically, and proved to be a smash hit, anticipating the boom of Wide-Open Sandbox games that would emerge in the next console generation. So naturally, there was pressure for sequels. Driver 2 went out the door the following year. It added curved roadsnote In the first game, every corner was at a 90-degree angle due to the limitations of the technology. While this was acceptable at intersections, this made turns on, say, bridges rather awkward., foreign cities (Havana and Rio de Janeiro, in addition to Chicago and Las Vegas), and clunky on-foot controls. A Game Boy Advance version was released in 2002.
In 2004, DRIV3R (read as Driver 3), the series' debut on the PlayStation 2 and Xbox, attempted to play catch-up with the Grand Theft Auto series by introducing gunplay and recruiting such voice talent as Michael Madsen, Ving Rhames and Michelle Rodriguez.
Reflections released Driver: Parallel Lines in 2006. Set entirely in New York City and its New Jersey suburbs rather than multiple cities like the other games, it instead took place over a period of time — the first half was set in 1978, while the second half took place in The Present Day. It also took place in a new continuity-focusing on a young man known only as TK who rises through NYC's criminal underworld only to be betrayed and thrown into jail, and is out for revenge upon release.
A prequel, Driver 76, was released the following year for the PlayStation Portable.
In 2011, Reflections (now Ubisoft Reflections) took another shot at the series with Driver: San Francisco, the first game in the series for the PlayStation 3 and Xbox 360. Returning to the first three games' continuity and, like Parallel Lines, taking place entirely in one city (guess which one it is), San Francisco goes the supernatural/Mind Screw route by taking place while Tanner is in a coma... and giving him "shifting" powers that allow him to possess other drivers on the road.
Coinciding with San Francisco's release is Driver: Renegade for the Nintendo 3DS. Set between the first two games, the story begins with Tanner quitting the NYPD and striking out on his own as a Vigilante Man. Tanner is soon recruited by Senator Andrew Ballard to take down five of New York City's most notorious crime lords.
The latest instalment as of this edit is Driver: Speedboat Paradise, with only boats instead of cars to play with and developed by former Gameloft staff. Most recently, Reflections helped out with Ivory Tower with the development of The Crew, a racing MMO that was released in 2014.
---
Games in this series with their own pages:
Other games in the series contain examples of:
---