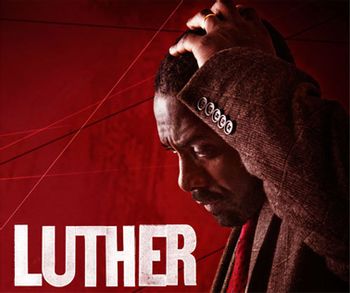 A BBC crime drama starring Idris Elba, about DCI John Luther, a police officer working for London's Serious Crime Unit, who's often at odds with others because of his unstable personality and ease with going outside the law to get the job done. The show ran over three seasons from May 2010 to July 2013 and returned with a two-part special in December 2015. A four-part fifth season screened at the very start of 2019.
A Russian version called Klim made it to air by Channel One, but a planned American version seems to have stalled, with no news since March 2015 due to problems in finding a suitable actor to play as Luther.
A South Korean version has been broadcasted by Munhwa Broadcasting Corporation, known as Less Than Evil.
A prequel novel, Luther: The Calling, has also been released, as has Murdah Loves John, a Concept Album produced by Elba that uses music to reflect the mindset of the title character.
Not to be confused with Disney's Zeke and Luther, nor with the 2003 film Luther (about Martin Luther), or that bald bad guy they're always cutting a big ol' check for.
---
This series contains examples of:
---