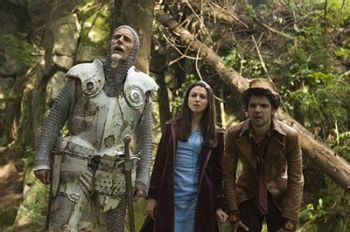 "Does this look like a kid's story to you?"
— Hatter
The team that brought you Tin Man, a loose reimagining of The Wonderful Wizard of Oz, takes on Alice in Wonderland, saturated with Darker and Edgier and Rule of Cool. When martial arts instructor Alice Hamilton (Caterina Scorsone) sees her boyfriend, Jack Chase, being taken away by some mysterious men in a white van, she chases one of them Through the Looking Glass... and into a Crapsack World. Guided by Hatter (Andrew-Lee Potts) and The White Knight (Matt Frewer), Alice goes looking for Jack, but discovers that things aren't all that wonderful in Wonderland.
This series was a mini-series broadcast in December, 2009. It is not to be confused with the CBS Work Com starring Linda Lavin.
The director has recently done Neverland.
---
This series contains examples of:
Adaptation Decay: Lampshaded and subverted, as it openly regards the original as history from which everything has descended to Crapsack World levels.
Adaptational Villainy: In the novel, the March Hare is the Hatter's friend and was never more hostile than telling Alice that there was no room at their table. Here, "Mad March" is a homicidal maniac serving the Queen.
Aerith and Bob: Wonderland, featuring names such as Winston, Jack, and Charles alongside Hatter, Ten of Clubs, and Mad March.
Ambiguous Gender: Dormie, who is played by a woman wearing a mustache. Normally, this wouldn't be ambiguous — but as we're in Wonderland...
Big "NO!": Hatter, after

Alice goes to the Casino on her own.

Black-and-Grey Morality: The bad guys kidnap people from our world including children and drain them of their emotions, Mooks are sentenced to decapitation with frequency, and keep the populace in control with drugs. As for the good guys... see Well-Intentioned Extremist, and the way Hatter the con man behaved, especially before becoming committed to the Resistance.
Came Back Wrong: Mad March's new head is well...yeah. This was only because the Queen's impatience forced the Carpenter to take shortcuts. Though it's only physical. Mentally the Mad March is just as he's always been.
Cheshire Cat Grin: In Alice's Dream Sequence, her cat Dinah does this before teleporting away. Strangely enough, this is the only time in the series where the Cheshire Cat is alluded to.
Chess Motifs: The architecture White Knight's kingdom resembles giant chess pieces.
Chivalrous Pervert: Hatter flirts like crazy and is obviously attracted to Alice. When it comes time for sleeping arrangements, Charlie gets a hammock, Alice gets the bed... and Hatter sleeps propped up against the wall.
The Dog Bites Back: Eventually, everyone in Wonderland rebels against the Queen of Hearts, after years of being threatened with execution or torture at the drop of a hat. Winston, the King of Hearts, doesn't do anything outright to her, but he does defy her pleas for him to evacuate the palace.

Winston: Have I ever said no to you?
Queen of Hearts: Stop this. Come along now.
Winston: No.

Domestic Abuse: The Queen of Hearts to her King, of the emotional abuse flavor.
Double Agent: Hatter:

I've lived my life playing both sides of the court. I'd make the Hearts think I was working for them, while I fed their enemies.
Fantastic Drug: Emotions, which can, in fact, be overdosed upon, leading to one of the few instances ever on film of Fantastic Rehab.
Funny Background Event: Alice's mother Carol's face during

the final kiss between Alice and Hatter. Naturally, she has no idea why Alice is suddenly passionately kissing a construction worker that as far as Carol knows, she just met

.
Government Drug Enforcement: Not only is this how the Queen of Hearts stays in power, but a throwaway comment suggests that it's the root of the entire economy. Also Hatter's legal employer.
Heel–Face Turn:

The Carpenter also, when he remembers that Alice is his daughter.
Meaningful Name: Played with:

Hatter:

Do you know why they call me Hatter?

Alice:

Because you wear a hat?

Hatter:

(

Beat

) No.
Megaton Punch: Hatter is capable of one. He misses punching Dodo once and it cracks a pillar.
Men Are the Expendable Gender: Yeah. The dead

Winston King of Hearts, Carpenter/Robert Hamilton, Walrus, and potentially Agent White

are all men.

Admittedly, there were not a great many female roles at the forefront of the show aside from Alice and the Queen.

Duchess

could have theoretically qualified for expendable because Redemption Equals Death but it was averted in her case. Probably just as well. Somebody had to rescue Jack.
Mythology Gag: Where to start?

When giving the password to the Great Library, Hatter says that he's returning a book by Edwin and Morcar. They are both historical figures mentioned by the Dodo in his lecture about William the Conqueror in the novel.
When the Tweedles give Alice a desk to write on, it has a pair of white gloves and a fan on it. In the novel, Alice found these things on the White Rabbit's desk.
Hatter introduces himself and Charlie as Robinson and Duckworth. Robinson Duckworth was part of the boating expedition where Carroll first told the tale.
Possibly doubling as a Visual Pun, the last shot of the series is Alice, Hatter, and Carol seen through a looking glass.
Power of Love:

Winston's entire motivation; he claims he would have conquered the world so the queen would give him just one smile. And they never tell us how big Wonderland is, so maybe he did.
What leads the Hatter through the Looking Glass, and a number of smaller instances.
And The Carpenter's Heel–Face Turn, but that was more

paternal

love.

Power of Trust: Hatter talks about trust so frequently one might be forgiven the misconception that he's a rogue Handler who wandered over from the Dollhouse.
Slave Brand: People from Earth who arrive in Wonderland are marked with a special tattoo to identify them as "Oysters".
Slobs Versus Snobs: A scaled down version in the Love Triangle between Jack (snob - cultured, stylish), and Hatter (slob - chaotic, scruffy), with Alice in the middle.
Soft Water: Once when Alice breaks out of Scarab and falls a truly frightening distance, and once when the flying flamingo rocket scooters crash into the lake.
Weird Currency: Residents of Wonderland used "tea" made from distilled human emotions as currency. Alice quickly learns that her money holds no value to them.
Weird World, Weird Food: Barbecued borogrove is delicious, apparently.
Wings Do Nothing: The Jabberwock has a set of purely-decorative reptilian wings.
---