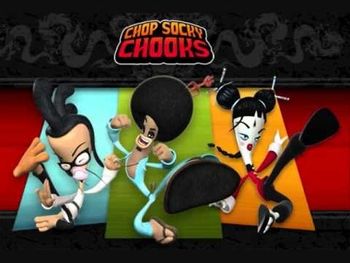 Chop Socky Chooks was a short-lived British-Canadian All-CGI Cartoon themed around martial arts and produced by Aardman Animations and Decode Entertainment. It aired on Teletoon and Cartoon Network from March to September of 2008, running for a total of 26 episodes. The name is from "chop socky", which is slang for the Asian martial arts film genre, and "chook", which is Australian and New Zealand slang for chicken.
The show focused on three martial artists named Chick P., K.O. Joe, and Chuckie Chan, who all live and work in a city-sized shopping mall called Wasabi World, which is owned by an evil little piranha named Dr. Wasabi. The trio protect the citizens of Wasabi World from Dr. Wasabi's various machinations, which usually involves have to use their kung fu skills to battle Dr. Wasabi's ninja chimps and his massive but dimwitted gorilla henchman Bubba.
...Oh, and did we mention our heroes are fighting chickens?
---
Tropes the show includes:
---