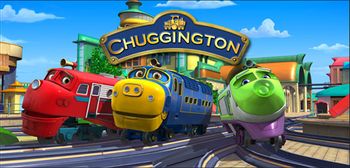 "Chuggington... Chugga, chugga, chugga, chugga, Chuggington! Chuggington... chugga, chugga, chugga... chugga, chugga, chugga..."
Chuggington started airing in Great Britain in 2008, and debuted on the Disney Channel in the United States in 2010. It features three young, talking trains referred to as "trainees", and several supporting characters in the form of either people who work at the station or other anthropomorphic trains. Most episodes revolve around these three learning a new kind of job, including pulling passenger cars or delivering cargo... also, serving ice cream and learning to be superheroes.
Two of the founders of the company that produces this show were previously executives for the company that produces Thomas & Friends. Not that there's any similarity between this show and that one.
The main characters are as follows:
---
Chuggington provides examples of:
---