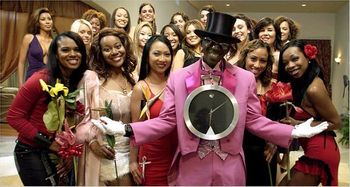 Television has had to choose between making gold or crap. They can pay top dollar to make shows like
Mad Men
and hope to cash in on DVD sales, or crank out dirt-cheap reality shows that can turn a profit even with tiny ratings.
Or, they can say "fuck it" and make a show about dating Flavor Flav.
Flavor of Love (2006-2008) is a VH1 "Celebreality" show. It centers around Public Enemy hype man and Large Ham Flavor Flav finding true love, after his breakup with Brigitte Nielsen. 20 girls were to compete for his heart until only one remained. It resulted in not one, but three seasons, each with a new supply of girls. Hilarity ensued.
The season 1 girls weren't told they'd be dating Flavor Flav, until they'd already been cast.
Each contestant is given a nickname by Flav (he's admittedly not good with names) and is referred to by that nickname for as long as she remains on VH-1. The contestants compete for intimate dates with Flav by partaking in various challenges. At the end of each episode, the show features a clock ceremony where contestants receive gold clocks to wear around their necks. Flav brings the few remaining women's parents on in the third or second to last episode. Finally, the season finale takes place in a tropical destination: the finalists and Flav spend the last two days at a luxurious resort preceding his final decision.
The whole mess was a Star-Making Role for many of the girls, and resulted in a number of spinoffs / clone shows, many of which feature a whole lot of contestants from previous shows. These shows include, but are in no way limited to:
Also, Flavor of Love itself spun off from Strange Love, a spinoff of The Surreal Life, in turn based on The Real World, which... you get the idea.
---
This series provides examples of:
---