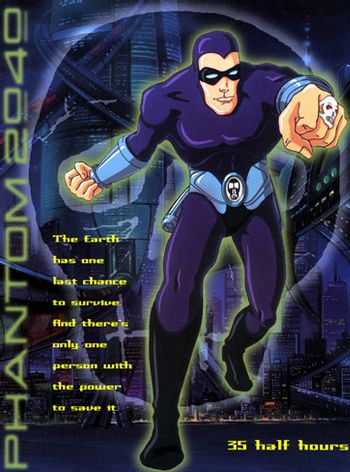 A father's desperate sacrifice. A young boy survives to swear an oath. "I swear to devote my life to the destruction of piracy and injustice. My sons and their sons shall follow me." This is the legacy of my family — a vow handed down from father to son for over 500 years. Now, in the year 2040, I am the Ghost Who Walks. I am The Phantom!
Phantom 2040 is an Animated Adaptation of the comic book superhero The Phantom which aired between 1994-1996, breaking from the hero's usual routine battling evil in the jungle into a Cyberpunk future.
In the year 2040, college student Kit Walker learns that his father, who disappeared when he was a baby, was the 23rd Phantom, latest in a long line of heroes. Kit takes up the mantle, with the support of Guran, his father's friend and assistant, and Professor Archer, one of Kit's teachers, who puts two and two together after the return of the Phantom coincides with a sudden decline in Kit's academic performance. Kit's Aunt Heloise, who raised him in ignorance of his heritage in the hope he could avoid the short and dangerous life his father had led, also lends her support when it becomes clear that he's committed to it whatever she does.
The Phantom's fight against crime and corruption often involves crossing swords with Megacorporation Maximum, Inc. Maximum's founder, Maxwell Madison, disappeared on the same night as Kit's father, and this, it quickly becomes clear, is not mere coincidence. The corporation is now run by his widow, Rebecca, with (not much) help from Max Madison Jr. Following the death of his father, Max Jr. has developed into a psychologically withdrawn young man with no interest in anything much except his cat, Baudelaire. (Having the temperamental Rebecca for a mother probably didn't help.) Rebecca Madison's Dragon is Maximum's security chief, Graft, a cynical former soldier and environmentalist who was critically injured in a battle and now is kept alive by Maximum technology; what's left of his body can be plugged into a variety of robotic frames ranging from approximately human to full-on battle mech.
The visual aesthetic of the series is similar to that of Ĉon Flux, as it has the same designer, Peter Chung. The series also, in retrospect, has some interesting similarities to the later Batman Beyond and Zorro: Generation Z, though this is probably just convergent evolution from a similar premise, that being a Legacy Hero character in a cyberpunk future.
The people behind this series went on to also do a teenage animated version of the Phantom's King Features stablemate Flash Gordon.
Is being released a few episodes a week on the youtube channel
for Comics Kingdom
, a comic strip site that also digitally runs the comic about the original Phantom.
---
The animated series has these tropes:
---
The spin-off video game provides examples of:
---