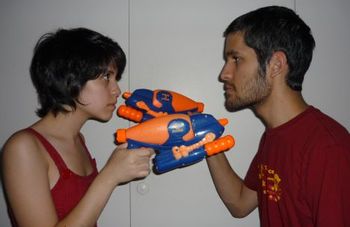 Hey Ash, Whatcha Playin'?
, aka HAWP, is a video series by Destructoid, (formerly) hosted on Gametrailers.
It is presented in short episodes, usually only a few minutes long. Any given episode typically begins with Ashly Burch's older brother, Anthony, asking his sister what game she's currently playing, whereupon she responds and the siblings (and sometimes their friends) conduct a skit/parody of said game. Said skit can consist of her acting as the game's characters, putting herself into the game's situation and acting completely unlike the characters (she'd rather play Connect Four with herself than fight the horde) or even just sitting and yelling at the game while she plays it.
---
Tropes that apply to Hey Ash, Whatcha Playin'?:
Precision F-Strike: In the Adventure Games episode when Ashly gets sick of being berated by Anthony for her violent tendencies and him talking about Guybrush Threepwood she says:

Ashly': "You know what? FUCK GUYBRUSH THREEPWOOD!"

Psychic-Assisted Suicide: In the Driver: San Francisco episode, Ash, who's in a coma, possesses Davis's body and has her transfer all her money to Ash's account, then makes her blow her brains out.
Psychopathic Manchild: Ashly, whose wacky antics often involve brutality to her surroundings.
Pyrrhic Victory: Papa Burch spending four hours to wreck Ash's Animal Crossing town.

It only takes her an hour to fix the damage.

Reality Warper: In the Quantum Conundrum episode, Ash uses it to great effect on Anthony by putting him in things like a cupcake dimension, AIDS dimension and even nightmare and fantasy dimensions.
Real Men Wear Pink: Papa Burch has extensive knowledge of Twilight, and has great skill with "girl games".note
Running Gag: Plenty, such as Ash's habit of making gay jokes about her brother, and Papa Burch's utter unflappability.
Screaming at Squick: In the NFL Blitz episode, the group gang up on Anthony for having a big head. When he gets to asking Papa, he says he's like a bobblehead that he doesn't want to cum on. That gets both Anthony and Ash screaming.
Screw This, I'm Out of Here!: When Anthony sees Ashley Davis strangling Ashly he slowly backs out of the room.

From the Mass Effect episode, we have this gem from Papa Burch:

Papa Burch: This is not Fuddruckers, I was promised Fuddruckers, I'm going to Fuddruckers.

Season Finale: Five to date, inspired by Metal Gear Solid 4, adventure games, Teenage Mutant Ninja Turtles: The Arcade Game & Super Mario Bros., "gamer girls," and Chrono Trigger respectively.
Shout-Out: In two different episodes (Yoshi's Island and Elite Beat Agents), Anthony can be seen reading the trade paperback (and trade hardcover) of Watchmen.
Silent Offer: In "E3 2011, part II", Ash seemingly makes an offer to someone on a piece of paper. When he unfolds the paper, there is a childish drawing instead of the expected offer.
Single Tear: Papa Burch cries a Manly Tear in the Viva Piñata episode.
Something We Forgot: The Chrono Trigger episode has Ash going back in time to try and fix Anthony and Davis' relationship. While she invested in stocks for the future and messed around, she forgot to fix their relationship.
Speaking Simlish: The Banjo-Kazooie episode where everyone speaks like this until the stinger at the end.
Special Guest: Freddie Wong in the Donkey Kong Country: Tropical Freeze episode as the "Hype Man".
Stepford Smiler: Ashley (Davis). Played for Laughs as all she does is smile no matter what. Up to and including her 3DS being stolen right from her hands.
Squick: In "Local Multiplayer Etiquette," Ash was about to shout about what she's gonna do to Anthony while losing, only for Davis to tell her to use her inside voice. After she whispers it, Anthony is quite disgusted!
The Stinger: Most episodes have one.
Straight Man and Wise Guy: Anthony is the straight man, taking games an important, artistic form. Ash is the wise guy, making cutting comments and jabs at whatever logical or interesting points her brother makes.
Suckiness Is Painful: The Indiana Jones episode starts off with Anthony tying Ash down so she can watch the first three movies. Then Papa comes in and ties Anthony down and makes them watch Kingdom of the Crystal Skull which has the same effect as staring into the Ark of the Covenant.
There Are No Therapists: Double Subverted in the Mass Effect 2 episode. Anthony calls a therapist for a session, but Ashly doesn't care and Papa Burch gets mad at him due to not going to Fuddruckers.
Time Slows Down: In the Quantum Conundrum episode, Ash makes time slow down while she's playing the game. She takes this opportunity to put make-up on Anthony's face, then try out other dimensions.
Too Dumb to Live: In the "Once Upon A Pixel" episode (which started the Spin-Off video series with the same name), Papa Burch tells Ashly and Anthony that he needs to go out, and is dropping them off at daycare. Anthony starts to protest, but then notices Ashly:

Anthony:

Ash, what the hell are you doing?

Ashly: [sticking a fork into a plug socket] INNNFAMOUS! Anthony:

NO!!

[cuts to Anthony and Ash in daycare]

Whole-Plot Reference: Anthony accuses Uncharted 2: Among Thieves of being this to Firefly, and Nathan Drake of being an Expy of Captain Malcolm Reynolds.
With Lyrics: From the The Legend of Zelda: Ocarina of Time episode:

"E-po-na! Here's-your-song! Get-the-fuck right here!"
"Zelda's haaat, why's it weeeird, she looks liiike a nun..."
"Sa-ri-a is a kid, this is kinda vaaaguely pe-do-philic... and kinda gross..."

Women Are Wiser: Inverted. Anthony, the male of the duo, is morally superior to the female Ashly.
Writer's Block: Ash!Anthony realizes that after spending so much time writing Borderlands 2, he doesn't know how to make a decent HAWP episode.
---