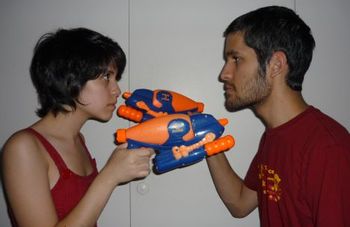 Hey Ash, Whatcha Playin'?
, aka HAWP, is a video series by Destructoid, (formerly) hosted on Gametrailers.
It is presented in short episodes, usually only a few minutes long. Any given episode typically begins with Ashly Burch's older brother, Anthony, asking his sister what game she's currently playing, whereupon she responds and the siblings (and sometimes their friends) conduct a skit/parody of said game. Said skit can consist of her acting as the game's characters, putting herself into the game's situation and acting completely unlike the characters (she'd rather play Connect Four with herself than fight the horde) or even just sitting and yelling at the game while she plays it.
---
Tropes that apply to Hey Ash, Whatcha Playin'?:
---