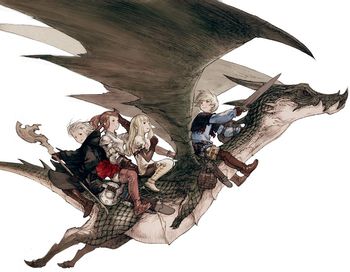 To thee I grant this gift of Light,
upon thy head a crown of might.
Final Fantasy: The 4 Heroes of Light is a Gaiden Game or "spinoff" from the ball-throbbingly popular Final Fantasy series. It was released for the Nintendo DS console in Japan and was released in North America on October 5, 2010. The game is the second to be released with the Final Fantasy Gaiden subtitle in Japan, after Seiken Densetsu: Final Fantasy Gaiden, though the two games have no relation to each other besides being Final Fantasy spinoffs. Character design was done by Akihiko Yoshida, and Matrix Software, developers of various titles such as Alundra and the DS remakes of Final Fantasy III and IV has returned to develop this title.
The story of the game begins on Brandt's fourteenth birthday, when he comes of age and is immediately handed a task to Save the Princess. He picks up three more companions (including said princess) who are not exactly hero material and are nevertheless told by the Crystal that they are the Heroes who must save the world from darkness. They return to a cursed kingdom, where they immediately split up because they're teenagers with poor judgment. In their misadventures, it becomes clear that the world has needed help for a long time now and darkness clearly has the upper hand.
Like several titles of old, this game uses a Class and Level System, here called the Crown System, but its unique variation lies in the fact that every character is essentially an Onion Knight in that they can equip anything; the jobs instead affect their usable skillset. Powering up the crowns involves a unique form of leveling via the application of disposable gems.
It spawned a spiritual successor in Bravely Default, which has significantly more bells and whistles, but the same monster designs and same-but-not-quite job classes to the main Final Fantasy games.
Songs from The 4 Heroes of Light will appear in the 2023 Theatrhythm Final Fantasy game Theatrhythm Final Bar Line, which will be the first time it has been referenced in another Final Fantasy game.
---
This game provides examples of:
---