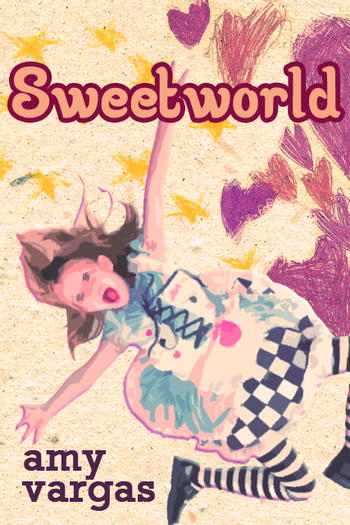 "A child's curiosity overcomes the adult's stubborn truth."
—
Astriferous
,in
their twitter
,in-story said by Nanna de la Fondue.
Sweetworld is a (TV/book) series concept by yours truly,and one of the most noteworthy entries in the CPC Verse.Conceived in late 2009,and "released" in March 3rd,2010.However,the writing just started in 2013 NaNoWriMo.And it's not even finished.In short,the development is a mess.Try not to step on anything.

*Ahem* Onto the real story...
It revolves around two Happily Adopted best friends,Clara and Diana.In their first day of their fouth grade,they find a mysterious portal,and get sucked in it.They realize they're not in Earth anymore.An old lady welcomes them to Sweetworld.
Meanwhile,Kristal,the Queen of Sweetworld,while she figures a way to get the timeflow of her land back to normal,as the planet is stuck in a kind of loop that is affecting the nature of itself,caused by some kind of "blue lightning",just like the legends say.
She's told of the arrival of these children.Her proposal? To get back home,they have to help her to get rid of these rare ramifications before it gets into the habitants,using an energy only the queen has knowledge of.
Magic.
And that's pretty much what is about.But as the years passed,I've made more stories taking place in Sweetworld,which are:
Magisen Et Circenses:An interquel between the first and second half of the story.Clara and Diana have to retrieve 5 items from both heros and nobodies to finally get back home,or so does the new Queen,Albertina,says. A boy is in possession of one of them,but he'll put on a show to keep the girls away from it. Consider it The Movie.
Sweetworld Surprise!:The sequel,none less important than the original,takes place 5 years after the first series.After Diana broke the mirror the Queen gave her and Clara,the magic coming from it comes loose.Four new children get involved in a whole new adventure. And for Clara and Diana,it isn't over yet.
A Bitter Sweetworld:An Alternate Timeline story,where Magisen Et Circenses' Ubique is the new protagonist.He and Hallaya have been together for several cycles,but at what cost?
Timeline Stitches:This one really is a compilation of drabbles,the main one being the forementioned Timeline Stitches,another Alternate Timeline story,protagonized by Hallaya and an older Ubique.There's also some small sequel side stories,alternate universes and What If?'s.
Sweetworld Neo:Yet another sequel,this time featuring a whole new cast,many cycles after the events of Surprise.A fugo child and a teen girl are kidnapped to take advantage of their blood,while a magisen revolution slowly rises.
---
Sweetworld contains examples of:
open/close all folders
In General
Sweetworld
Magisen Et Circenses
Sweetworld Surprise!
Sweetworld Neo
Master-Apprentice Chain:Subverted.When Neo asks Vitro to help him get a hang of his blood magic,only for the latter specifically telling him "not to trust [him],less a guy called Maize Hanseat".

And by season two proceeds to (somewhat reclutantly) teach him and some others on how to use magic.
A Bitter Sweetworld
Timeline Sitiches and other stories
---