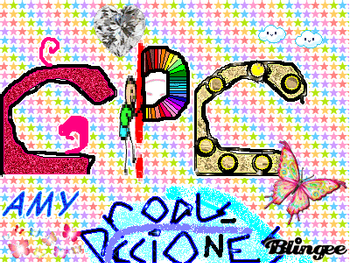 Welcome to the CPC Verse(Named after Chick Pop Canal,my pretend TV channel I made up years ago),where
my
dumb works are yet to come to fruition!Of course,there will only be tropes in here,but for other stuff,you may wanna check my
oc
blogs
.Or my
Charahub
.
You'll be wondering,"Hey Astriferous,why are you doing this page?",and the answer is:the works in this verse take place in the same universe,in a same continuity.Well,that doesn't necessarily means all of the works in here will cross over with one another.Just saying.
One last note:If you come across this page,check some of the entries.Reviews are encouraged!
Works included in the CPC Verse are(in chronological event order):
Era 1 (1950-2020?)
Era 2 (2023-2110?)
Without an specific time and/or with its own calendar
Works not included in the CPC Verse,but are worth mentioning:
CPC Pantheon
what even is this shit
Adolescente Hada:A Fatae sequel.
Little Love Bits:A Boy Meets Girl story.Aaaaand that's it.I didn't get beyond that.
Mexican Magic: Ojamajo Doremi in Mexico.The protagonist would have been Frida.Yes,the same one from Power Punch,only younger.
Zapatos Locos:Like The Sisterhood of the Traveling Pants,except it's with shoes,which they don't share with anyone else(not even between themselves),and a fifth member is an Otaku.
The Kid Demographic Phase:Back in elementary school,I had a fervent desire for making stories aimed at children.The only series that still stands to this day,and now is one of the most complex and developed ones in the Verse,is Sweetworld.
Mary Chuy,Where Are You?:Basically Thirty Sue Pileup:The Webcomic,it was barely explored beyond that.
---
And now,for the tropes: