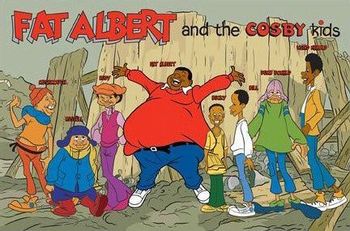 "This is Bill Cosby coming at you with music and fun, and if you're not careful, you may learn something before it's done. So let's get ready, okay? Hey, hey, hey!"
Bill Cosby created this Filmation series, based on his boyhood in Philadelphia (and, more directly, on his Stand-Up Comedy routines of the 1960s, like I Started Out as a Child). Cosby also appeared on camera as a Narrator and performed some of the character voices, including Fat Albert himself. The show ran Saturday mornings on CBS from 1972 to 1984, followed by one additional season in first-run syndication. In addition to a good income and setting up a ready audience for The Cosby Show to rule the airwaves in the 1980s, Cosby also used this series to earn a Doctorate in Education, and become Dr. Cosby.
In every episode, Fat Albert and his inner-city gang became involved in some comic misadventure, either learning a moral lesson or demonstrating a lesson for someone else. As on The Archie Show, every Fat Albert episode included at least one song. In later seasons, Fat Albert and his friends followed the exploits of their favorite TV superhero, the Brown Hornet, who had adventures with morals that typically paralleled the main story. The first-run syndicated episodes had "Legal Eagle," a Funny Animal parable told by Mudfoot to serve the same story purpose.
At Christmas 2004, 20th Century Fox released a live-action Fat Albert feature film starring Kenan Thompson note The same Kenan Thompson who was on All That, Kenan & Kel, and currently Saturday Night Live in which the cast of the Fat Albert cartoon step out of the TV to make a little girl's life better. It wasn't well received by critics and the box office.
In 2013, the series was licensed to DreamWorks Classics.
In January 2013, Cosby announced on his Facebook page that a new version of Fat Albert is being developed. As of yet, it has not surfaced, and with the subsequent controversy regarding Cosby's sexual conduct, it probably never will.
A character page is in the works.
---
"I'm gonna sing a song for you / and Bill's gonna show you a trope or two...":
Abusive Parents: One episode is focused around a classmate of Fat Albert's being abused by her mother. In the end, Fat Albert convinces her to tell their teacher what's happening.
Acrofatic: Fat Albert is surprisingly agile for a person of his size, being able to run extremely quickly and jump very high.
Advertised Extra: Cluck the Duck was suppose to be a main character in the series but was dropped after the 1st season and only appeared in 3 episodes. Yet he was in the theme song for season 1.
Armor-Piercing Question: Tyrone was a Jerkass Woobie ever since the death of his wife, Martha, including yelling at poor children and ruining fun for Albert and his friends. Mudfoot shoots him a question that actually gets through to Tyrone, eventually making him change his attitude toward the end of the episode

Mudfoot: "Now what do you think Martha would say if she could see you now?"

Author Avatar: Bill. Curiously, he was one of the most minor characters — you'd have never guessed he was based on Cosby himself if not for the name.
Big Ball of Violence: Happens whenever the gang starts fighting amongst themselves: a big cloud of dust with the occasional head, arm and leg projecting from it.
Big, Thin, Short Trio: Fat Albert, Weird Harold, and any of Bucky, Bill, or Russell.
Board Game: The show had one, with cardboard tokens of the characters stuck in giant plastic sneaker feet.
Butt-Monkey: Rudy. Russell was often the one to put him in his place.

Russell: "Rudy, you're just like school in the summertime: no class."

Catchphrase: "Hey, hey, hey!" Live-action Bill Cosby was usually wearing a t-shirt with this catchphrase on it over a picture of Fat Albert's head.
---