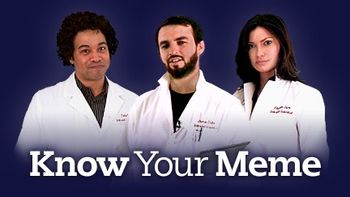 Know Your Meme
, known by many as the de facto central repository for information on internet memes and culture, is an internet series created by the Rocketboom Institute for Internet Studies, in which resident scientists Kenyatta Cheese (aka Yatta), Elspeth Jane (aka Ellie Rountree), and now-retired Jamie Wilkinson (aka Jamie Dubs) tackle on to provide general history of internet memes as well as to try and explain what exactly makes them memetic.
Older episodes were made Just for Fun and all the research was done by the KYM staff themselves. But over time, the Know Your Meme website was created and most of the research is now done there. On the site, anyone can submit a basic meme article (akin to That Other Wiki), which, if the subject is deemed notable, is subsequently researched and expanded. Later on, the site was bought by the Cheezburger Network.
Also, since entries on Know Your Meme work on an entirely different principle than here on TV Tropes, you can expect them to touch on topics that would otherwise be too controversial or unsafe for us to talk about, making them a good site to get a second opinion from.
And yes, let it be known that they also have a page
on us.
---
Confirmed memes on Know Your Meme that also have a TV Tropes Page:
Tropes
Works/Other
Know Your Meme Provides examples of:
---