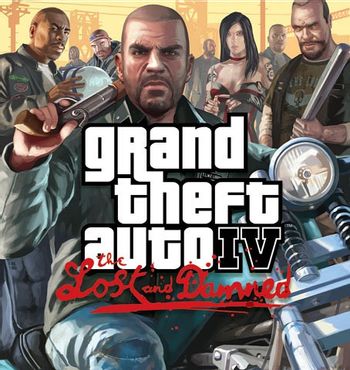 "A brother might stab you in the back - a woman certainly will... but a bike will never let you down."
—Johnny Klebitz
Grand Theft Auto: The Lost and Damned, released on 17 February 2009, is the first of the two Episodes from Liberty City DLC expansion packs made for Grand Theft Auto IV (the second being The Ballad of Gay Tony).
The story focuses on Johnny Klebitz, the vice president of the Lost motorcycle gang. He has been the gang's unofficial leader ever since the president, Billy Grey, was put in court-mandated drug rehabilitation, and has forged a truce with their arch-rival, the Angels of Death. The game begins with Billy being released from rehab, resuming his leadership position and creating tension with Johnny by trying to resume the war with the Angels of Death.
Since Johnny is an experienced biker, he can actually stay on his bike (and survive crashes) at speeds faster than walking (something Niko in GTA IV is notoriously bad at), although his corresponding dislike of cars means his four-wheel skills aren't as fancy as Niko's. He seems to have no trouble flying helicopters, though.
TLAD is also the first GTA game to feature full-frontal nudity. Male nudity. Take that, Jack Thompson.
The game is available either online through PlayStation Network or Xbox Live, requiring a copy of GTAIV, or as retail packed with Gay Tony in the Episodes from Liberty City two-pack, which is a standalone game. The Steam version was also part of the standalone EFLC pack, but both the vanilla game and the Episodes were combined into one single game as the Complete Edition in 2020.
---
The Almighty forgives, the Tropes don't:
---