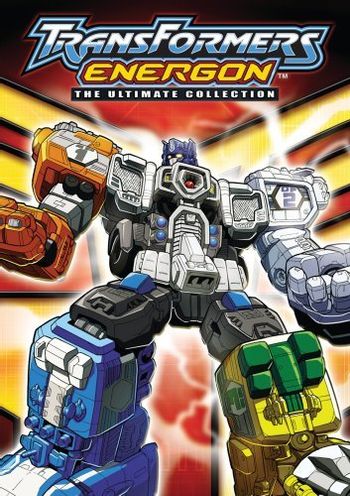 The sequel to Transformers: Armada and the second installment of the Unicron Trilogy and the second (and final) entry to be animated by Actas, Transformers Energon (Transformers Superlink in Japan) was concerned with the search for energon, the source of both Cybertronian factions' power. Although previous series had followed the integral plot of Autobots and Decepticons searching for energy, Energon was quite heavily obsessed with it.
The show begins with Cybertronians living on Earth with humans and on the lookout for more energy. Although Megatron is supposedly dead and the Decepticons and Autobots are allies, an undercurrent of shakiness pervades the Autobot cities. Meanwhile, deep inside all that remains of Unicron, the planet-sized Transformer, sits Alpha Q, prince of an ancient planet that was eaten by Unicron in ages past. Alpha Q plans to re-activate Unicron to recreate his own planet (Unicron can do that in Energon) and so sends out Terrorcons to find energy to power Unicron. They immediately head for Earth, and while the Autobots and Decepticons battle the Terrorcons, an old enemy lurks in the distance...
The series-wide gimmick was 'energon stars', little translucent plastic things that slotted into holes on the Transformers. The star acted as a magnifying glass, revealing a faction sigil at the bottom of the hole.
In addition, most of the Autobots took the form of combining toys, which the show called Powerlinxing. In most cases, one robot formed the head, arms, and torso, while a second formed the legs and abdomen in a manner reminiscent of Victory's Multiforce. In-story, it was explained that this made the combined bots 10 times more powerful.
One episode, "Distribution," was meant to commemorate the 500th episode of Transformers. However, it was aired as a special in Japan, non-canon to the actual plot.
Dreamwave Comics began publishing an adaptation as a direct sequel to their Armada comic, which like the Energon comic, was more or less a re-imagining of the series rather than a strict adaptation (for one thing's Unicron's ranks include four Transformers from Beast Wars, which were never in the animated series). Unfortunately, Dreamwave's numerous legal issues, which eventually led to the company's own dissolution, stopped the comic from ever being completed.
Followed by Transformers: Cybertron.
---
This show provides examples of:
Flat Character: A lot of Autobots are introduced in the series, and only so many get actual individual spotlight. Some of the complex characters get reformatted into flat characters as well.
Greek Chorus: Alpha Q, after

he dies. Possibly he's watching the show from Quintesson heaven... or hell

.
Hate Sink: Though the Cons are brutal, it's pretty clear that Shockblast isn't meant to be liked in the slightest. His brutality towards both enemy and ally, to the point that Megatron of all people has to tell him to cut it out, and sadist tendencies, make it quite satisfying when he's finally

crushed by Unicron

.
---
"UHH..."