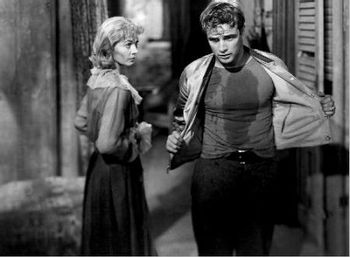 "In the age of Calvin Klein's steaming hunks, it must be hard for [younger audiences] to realize that there was ever a time when a man was nothing but a suit of clothes, a shirt and tie, shined leather shoes, and a gray, felt hat. [...] In 1947, when Marlon Brando appeared on stage in a torn sweaty T-shirt, there was an earthquake; and the male as sex object is still at our culture's center stage."
Tennessee Williams' A Streetcar Named Desire is a Pulitzer Prize-winning 1947 play about a hundred different things: fantasy versus reality, the old U.S. versus the new, men and women, social class, insanity, abuse, violence, appearances, purity, sex, death, etc.
Most people are familiar with the 1951 film version directed by Elia Kazan and starring Vivien Leigh, Marlon Brando, Kim Hunter, and Karl Malden, which was of course Oscar-tacular.note Although the best remembered performance — Marlon Brando as Stanley Kowalski — was passed over on Oscar night in favour of Humphrey Bogart in The African Queen. But there have been many other adaptations, including a 1995 Made-for-TV Movie starring Alec Baldwin and Jessica Lange, an opera, and even a ballet. Stuffed full of imagery and complex characters, Streetcar is often considered Williams' greatest work, and the character of Blanche is regarded by many as the most difficult female role in all of English literature.
The plot revolves around Blanche DuBois — a beauty in her youth who has now begun to fade — coming to stay with her pregnant sister Stella in New Orleans. Blanche has lost the women's ancestral home, Belle Reve, due to the financial strain of caring for their dying relatives, and has quit her job as a school teacher due to her nerves. When Blanche meets Stella's husband, Stanley Kowalski, the two develop an almost instant mutual dislike; Blanche finds Stanley vulgar and common, while Stanley hates Blanche's continual snobbery, despite the fact she is now just as poor as they are. He is also suspicious of his sister-in-law, thinking that Blanche may have cheated Stella out of her share of the inheritance.
Throughout the play we start getting glimpses that Blanche is hiding something, and when her secrets are revealed, things get worse. Much worse.
Note: The title of the movie refers to old buses used for public transit, streetcars, what we now call "light rail" or "trams." They were usually named for the street they ran on, and one of New Orleans' streetcars ran along a street named "Desire." It probably sounds more exciting than "A Streetcar Named Broadway," "A Streetcar Named 42nd Street," or, for that matter, "A Tram in New Orleans."
---
Tropes used:
Hot for Student:

Blanche, in the backstory, had a fling with an underage student in her class because he reminded her of Allen. This got her run out of town.
Selective Obliviousness:

Stella chooses to believe Blanche's claim that Stanley raped her was just another one of her delusions.
Skyward Scream: "Oh, what the hell! SSTTTEEELLLAAA!!!!"
Slobs Versus Snobs: The delicate, cultured, and slightly arrogant residents of Belle Reve versus the gritty, rude, and down-to-earth residents of New Orleans. (In itself probably something of a symbolic look at the Old South-New South conflict that was affecting the South at the time.) Most obviously, Stanley vs. Blanche.
Soundtrack Dissonance: The Varsouviana is a happy, upbeat polka tune. It is Blanche's "crazy music" and plays whenever she is losing it and/or her

husband's suicide comes up

.
Southern Belle: Blanche is a Southern Belle in the 20th century, a fading relic of a bygone age. She is living in a world that doesn't really exist anymore and her ideals are hopelessly out of date; she has to deal with the loss of their mansion house Belle Reve in the South, has no money or prospects, lives off her sister Stella and brother-in-law Stanley but expects to be waited on and treated like a queen.
Spotlight-Stealing Squad: Not for nothing does everybody remember Brando's Stanley — not Blanche, the alleged star. The film version didn't help; while Vivien Leigh did an admirable job as Blanche, Brando dominates every scene.
Stellar Name: Stella for star.
Stepford Smiler: Blanche and Stella. Blanche is defined by this trope, though. The thing with her husband when she was a teenager broke her permanently, and she has been empty ever since, circling the drain around neurosis and finally psychotic delusions.
Suddenly Shouting: When Stanley eventually gets frustrated with Blanche's flowery language:

Stanley: JUST CUT THE REBOP!

Teasing from Behind the Language Barrier: After Mitch tells Blanche that he doesn't speak French, she says: "Voulez-vous coucher avec moi ce soir? Vous ne comprenez pas? Ah, quel dommage!" ("Would you like to sleep with me this evening? You donít understand? What a tragedy!")
Token Minority: Pablo Gonzalez is the only non-white member of Stanley's poker group. He also gets by far the least development of the four, only appearing in group scenes to pad out the cast.
Trauma Button: Mentioning Blanche's

dead husband

is enough to make her vomit and get the polka tune playing in her head.
Western Zodiac: Blanche tries to fill an awkward space by talking about everyone's signs. Stanley scoffs at the idea that Blanche is a virginal Virgo, which leads her to inquire what sign he is. She assumes he's an Aries, due to his blunt and aggressive behavior, but he's actually a Capricorn, known for being cold and ambitious.
---
STELLAAAAAAAAAAAAAAAAAAA!!!!!!!!!!!
---