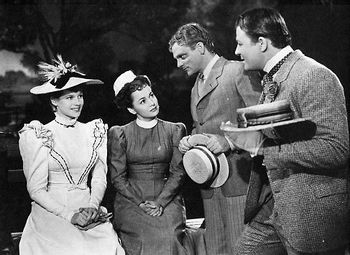 The Strawberry Blonde is a romantic comedy from 1941, directed by Raoul Walsh, starring James Cagney, Olivia de Havilland, and Rita Hayworth.
Biff Grimes (Cagney) is a young man in the early years of the 20th century, son of an Irish immigrant, who likes to get in fights, and aspires to be a dentist. Like everyone else in their New York neighborhood, he is enchanted with the lovely, lovely Virginia Brush (Hayworth). One day Hugo Barnstead, an ambitious, unethical neighborhood man who once enlisted Biff in a scheme to oversell tickets to a cruise, talks Biff into going out on a double date with Virginia and her friend Amy (De Havilland). Hugo promises Biff that Biff can have Virginia, but lies, and goes off with Virginia himself, leaving Biff in the company of Amy. Biff isn't too happy about this, and is even less happy when Amy startles him with her surprisingly liberated opinions.
Hugo, who is always taking advantage of Biff in ways large and small, eventually marries Virginia, gets rich, and lords his success over working-class Biff. Biff winds up marrying Amy, and they are happy—until Hugo reinserts himself in Biff's life and takes advantage of Biff in a much more terrible way.
The Strawberry Blonde was the only film de Havilland and Cagney starred in together despite both being Warner Brothers contract players for nearly a decade. It proved a huge career break for Hayworth, who soon became a big star. It was The Remake of a 1933 film called One Sunday Afternoon starring Gary Cooper, and would be remade again in 1948 as One Sunday Afternoon.
---
Tropes: