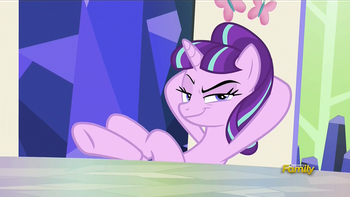 Twilight Sparkle: Thank you. We're going to set things right.
Applejack: [sighs] I hope you do.
Spike: So... how are we gonna set things right?
Twilight Sparkle: I don't know!
Written by: Josh Haber
Princess Twilight Sparkle is giving a presentation at Celestia's School for Gifted Unicorns in Canterlot on the magic of cutie marks, mentioning the bond that ties her and her friends' cutie marks to a single event: Rainbow Dash's first Sonic Rainboom as a filly. During her speech on how important this Rainboom was to gaining her cutie mark and status as Celestia's student/becoming the Princess of Friendship, Twilight is stunned to see who appears to be Starlight Glimmer listening to her speech, only to disappear when she looks again.
Back in Ponyville, as Twilight tries to put Starlight and a possible plot for revenge out of her mind, she and Spike enter the Map Room in the castle and find Starlight waiting for them. Starlight reveals a scroll and casts a spell on the map, which summons a portal that she vanishes through. Spike picks up the discarded scroll and the portal reappears, sucking both Twilight and him inside.
When the portal opens again, the two find themselves in Cloudsdale in the past at the moment a young Rainbow Dash is sticking up for Fluttershy in front of some bullies. Twilight realizes this is the exact moment that Rainbow challenges the bullies to a race and when she performed the Sonic Rainboom, and is shocked Starlight has the magic ability to create a stronger Time Travel spell. The two of them then go watch young Rainbow at the race, only for Starlight to cast a freezing spell on the young filly which paralyzes her before she can perform the Sonic Rainboom. Twilight demands Starlight to explain what she did, only for the time portal to appear and take them back to the present.
Once back, they see things are very different. Twilight's castle has disappeared (leaving only the map intact), and Ponyville has become ruins with boarded-up homes and businesses. They go to Sweet Apple Acres, only to find it has been modernized into an applesauce-canning factory. They soon learn from Applejack (who doesn't recognize them) that they are currently in a war with the Crystal Empire, led by King Sombra and a brainwashed crystal pony army. Twilight and Spike realize that Starlight stopping the Rainboom in the past is the cause of the alternate Bad Future they are currently in. With the scroll in hand and Map still functioning, they summon the portal and return to the past minutes before Starlight appeared.
When they return, however, Starlight is ready for them. The spell has been changed so that whenever Twilight goes back into the past, so does Starlight. After getting out of a crystal cube trap, Twilight is shocked to see Starlight talking with the bullies and convincing them to not bully young Fluttershy anymore, removing the motivation Rainbow Dash would need to perform the Rainboom. Undaunted, Twilight flies off to talk with young Rainbow and convince her to perform the Rainboom, only for the filly to brush her off and saying the Rainboom is impossible. Starlight gloats over Twilight's failure and the time portal reappears, sucking Twilight and Spike back to the present.
When they reappear, they see the Map is in a thick forest. Twilight and Spike are surrounded by several ponies wielding spears and tribal markings on their bodies, including Pinkie Pie and Fluttershy. Twilight tries to reason with them only to be accused of being a changeling, with Fluttershy proclaiming "servants of Queen Chrysalis found in these woods must be destroyed".
TO BE CONTINUED
*cue happy credits music*
---
Tropes:
---