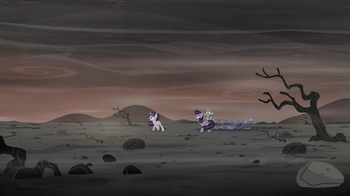 "What's
so special
about your friends?! How can a group of ponies that are so different be so important?!"
— Starlight Glimmer
Written by: Josh Haber
Twilight Sparkle and Spike have been sent to a different timeline where she is currently at the mercy of several ponies (which include her friends Pinkie Pie and Fluttershy) wearing strange tribal markings on their coats and wielding spears pointed at them. Before they are attacked, Zecora calls off her troops and coats both Twilight and Spike in a mystical salve that will reveal their true forms should they be changelings. However, not only does the salve prove they are who they claim, but also they begin to glow. Zecora soon realizes this is a sign that "they are not meant to be", referring to herself and the others in this world.
Zecora explains that Queen Chrysalis and the changelings rule over this world and rightfully assumes this is not natural. After Twilight explains what happened with Starlight Glimmer, Zecora then explains how changing one thing in the past will cause changes in the future. They arrive to a small village filled with other ponies holding out against Chrysalis's forces, only for Applejack, Rainbow Dash and Rarity to appear and say Ponyville has been attacked by changelings. Zecora, however, isn't fooled by this and "Applejack" is revealed to be Queen Chrysalis herself, with "Rainbow Dash" and "Rarity" being two of her changelings. Soon, an invading army appears in the sky. She then demands Zecora's surrender in exchange for sparing all the ponies in the village. Zecora instead holds off the changelings and tells Twilight to return to the past and stop Starlight.
Back in the past, Twilight chooses to stop Starlight by force and the two of them fight each other using their magic. However, their battle draws the attention of young Rainbow Dash and the bullies, who are now enthralled in watching the fight rather than having the race. Once again, the portal appears and a return to the present.
In this new timeline, everything is coated under the cover of night and the Map is now in an area inhabited by timber wolves. The two travelers manage to get away only to reach what appears to be the Castle of the Two Sisters in the Everfree Forest, now restored to its past glory. Upon entering the dark abode, they find not just Rarity (who naturally doesn't recognize them) whom they try explaining their use of time travel magic, but also Nightmare Moon, who reigns in this timeline and is intrigued by the notion of someone having time travel magic when it should be hers. Twilight, to Spike's shock, agrees to tell Nightmare Moon everything and leads her back to the Map's location. However, this was all part of Twilight's plan to get rid of the timber wolves in the area using Nightmare Moon and manages to summon the portal before the dark alicorn and her guards could catch them.
In the past, all of Twilight's attempts to stop Starlight are met with failure as she travels to different timelines where the dominant forces are Lord Tirek, Discord and the Flim-Flam Brothers, respectively. Finally, Twilight decides to show Starlight the damage she's causing by pulling her through the portal when it reopens.
This time, Equestria has been reduced to a barren wasteland devoid of everything (except incessant violent winds). Twilight tells Starlight the adverse effects of her scheme in the past and how this current Bad Future came to pass. Though initially shaken by this, Starlight will have none of it, as she is still upset over the Mane Six ruining her perfect paradise and even shows them the reason she created her "equal cutie mark utopia" by taking them to her own past. Arriving in an unfamiliar town, Starlight explains that, as a filly, she had a close friend who earned his cutie mark and was sent away to Canterlot after showing a lot of magic potential. Having not yet earned hers, Starlight ended up too scared to make new friends under the fear that they will also go away once they earned their cutie marks and formed her philosophy of them being the cause of strife.
Returning to the Sonic Rainboom race, in desperation Starlight is prepared to tear up the scroll and trap them in the past. Twilight then chooses to reason with her, telling Starlight that cutie marks won't change a pony, differences between friends are what make a bond stronger and that she shouldn't let one event in the past prevent her from moving forward and trying to make new friends. With this finally getting through, Starlight lets the Sonic Rainboom come to pass and the future is restored.
Arriving back at their proper timeline, the Mane Six discuss what to do with Starlight, seeing as she has more magic potential than most ponies Twilight knows. It is eventually decided that Starlight is now going to be apprenticed on the power of friendship, starting with seven new friends in the Mane Six and Spike, and is given a new lease on living and friendship.
---
Tropes:
---