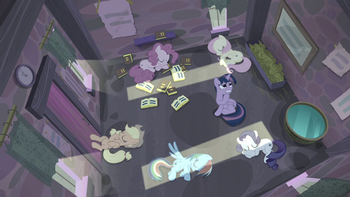 Starlight Glimmer: I gave these ponies real friendships they never could have had otherwise!
Double Diamond: How would you know that?! You never even gave us a chance!
Story by: Meghan McCarthy
Written by: M. A. Larson and Scott Sonneborn
With the Mane Six having their cutie marks taken by Starlight Glimmer, they are locked away in a house and forced to listen to Starlight's recorded propaganda on an intercom daily until they are willing to join her community; without their cutie marks, escape seems impossible (Rainbow Dash and Applejack lost their strength and can't break down the door, Twilight can't use her magic, Fluttershy tries to ask a bird for help but it can't understand her, etc.). Twilight, however, has an idea: Fluttershy. As the only one among them to show appreciation for the town, she could convincingly fake a change of heart and find a way to return their cutie marks.
When Starlight comes the next day, the Mane Six put their plan into action: Fluttershy pretends she has accepted Starlight's way, and she is allowed to go free. However, Starlight insists that Fluttershy expose those who revealed the existence of the Cutie Mark Vault. Party Favor reveals himself to cover for Sugar Belle and Night Glider. He is locked up with the other Mane Six for the day, where his behavior clearly tells the others they need to rescue the entire town.
Meanwhile, Starlight allows Fluttershy to stay with her while a house is prepared. Fluttershy is able to sneak out, planning on sneaking to the vault when she spots Double Diamond arriving, carrying jars with the Mane Six's cutie marks. Starlight plans to use them — particularly Twilight's — to further her ambitions. As she covertly watches from a window, she sees Starlight accidentally get wet, revealing that her equals sign cutie mark is simply decoration, and she still possesses her real one.
The next day, when the other Mane Six are asked again about joining, Fluttershy uses Twilight as a distraction long enough to splash water on Starlight, revealing her deception to the town. The ponies immediately question her why she didn't give up her mark, so she explains that the Staff of Sameness is a sham; it's her magic which allows her to take their cutie marks. With Starlight's full deception revealed, the townsponies turn on her, and Starlight quickly flees into her home. The townsponies race to the cave and shatter the vault, restoring their cutie marks. Starlight, however, still has the cutie marks of the Mane Six, which she plans to take with her out of spite.
Since the Mane Six are unable to stop her without their cutie marks, Double Diamond, Party Favor, Sugar Belle, and Night Glider chase her down, shattering the jars and restoring their cutie marks. Restored to normal, Twilight is able to shield the townsponies from Starlight's magic. Twilight tries to convince Starlight that there are other ways to find friendship than what she did, but she refuses, fleeing into the cave to parts unknown.
Back in town, the ponies decide that the village is still their home, but now they can rediscover the friendships they had for the first time. Twilight and the other Mane Six find their cutie marks signalling again, and agree this means they have completed the task the castle set them out to do. They spend some time in the town to celebrate with the other ponies before heading back home.
*cue... completely different and somewhat eerie credits music*
---
Tropes:
---