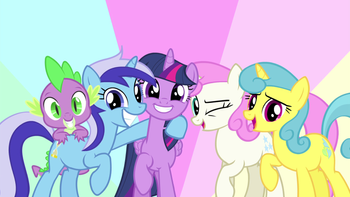 Written by M.A. Larson note
While Twilight Sparkle relaxes in her castle with a book, Spike offhandedly mentions that her being the Princess of Friendship is a bit ironic since she used to have a reputation in Canterlot for being such a bad friend. Twilight suddenly realizes that Spike is right; ever since she moved to Ponyville, she hasn't been back to see any of her old friends, even having forgotten their names. Twilight immediately decides to rectify this by going to Canterlot to see them.
After arriving in Canterlot, Twilight and Spike find their old home exactly as they left it, complete with Spike's gifts for Moondancer and all of Twilight's old books right where she left them. That morning, Twilight manages to find Minuette, who is ecstatic to see Twilight again. She invites Twilight to donuts with Twinkleshine and Lemon Hearts, and the four of them chat. During the conversation, Twilight sincerely apologizes for hurting their feelings by leaving without a word, but the three unicorns laugh it off, saying they didn't take it personally. The four visit their old science lab, where Twilight recalls Moondancer, who was an avid bookworm like Twilight. She suggests visiting Moondancer, but the friends find Moondancer to be an antisocial shut-in who cares only about studying.
At the public library, Twilight attempts to strike up a conversation with Moondancer, who brushes off all of Twilight's attempts until Twilight displays a magical technique that catches her attention. Twilight invites Moondancer to her home's private library and offers her a key that she can use to visit it whenever she wants, on the condition that Moondancer attend dinner with her old friends. With some persuasion, Moondancer eventually agrees, but the dinner is filled with awkward pauses and weary conversation, since Moondancer is wholly uninterested, and she finally leaves in a huff, saying that she tried friendship, and it just wasn't for her. This causes Twilight to remember that she turned down an invitation to Moondancer's party while Twilight was worried about how to stop Nightmare Moon. At the party proper, Moondancer was willing to open up when Minuette, Twinkleshine, and Lemon Hearts arrived, but when she learned Twilight wasn't coming, Moondancer simply slunk away, dejected.
Twilight enlists Pinkie Pie's help to throw Moondancer another party with her old friends, where Moondancer arrives with a chilly reception. Twilight tries to apologize again, but Moondancer angrily brushes her off. Moondancer begins yelling at Twilight that the party she threw was the first time she tried to open up, and Twilight not showing up broke her heart. Moondancer even begins to cry, to which Twilight agrees that Moondancer has every right to be angry, but she shouldn't let it affect her friendships with everypony else. In addition to three of her old friends, some of Moondancer's new friends arrive at her party, causing Moondancer to finally accept Twilight's apology.
The party ends, with Moondancer agreeing to start seeing her friends, old and new, more often. Spike even finally delivers the present he'd wanted to give Moondancer: a picture of the group of friends together. She hangs it up next to her front door and takes a break from her studies to play ball outside with Lemon Hearts, Minuette, and Twinkleshine.
---
Tropes:
---