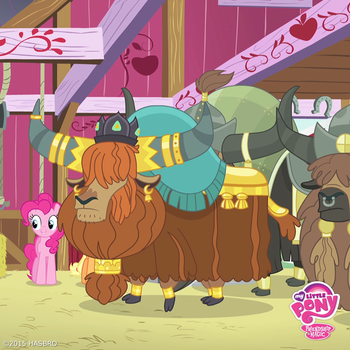 "We've never needed a party so badly!"
— Twilight Sparkle
Story by Jayson Thiesson and Jim Miller
Written by Nick Confalone
Twilight is nervously awaiting the arrival of Prince Rutherford and his delegates from Yakyakistan, a foreign land north of the Crystal Empire filled with yaks that ponies have never been able to enter. With Princess Celestia tasking her with making friends with the prince, Twilight wants everything to be perfect for the prince, having tasked Pinkie Pie with throwing the yaks a big party to celebrate. As Prince Rutherford and his two escorts arrive, he samples some of the Yakyakistan food Twilight made, only to say it wasn't made with Yakyakistan ingredients, leading to him and his escorts smashing up the castle in fury.
After the Mane Six fix the castle, they try various things to make Ponyville feel like Yakyakistan, only to be met with the same incredulous reaction from the yaks each time. After all other attempts fail, Twilight rests her hopes of making friends with the yaks on Pinkie's party. Pinkie nervously laments to Gummy that she has no idea what to do for the party, only to come up with the idea to travel to Yakyakistan herself to sample the culture, returning in time for the party. She leaves for the train station, only for Twilight to enter Sugar Cube Corner looking for her, finding Pinkie missing.
Pinkie boards the train for the Crystal Empire, but is forced to stop at Dodge City because of sheep blocking the track. She enlists the help of Cherry Jubilee to reach the Empire, but Cherry and her team are exhausted from having spent the night counting cherries. They almost fall into a ravine before Pinkie stops them, though the team falls in anyway. Meanwhile, back in Ponyville, the yaks are enjoying Spike's piano playing, but become enraged when they discover that he's actually using a player piano. Fed up, Rutherford not only says that he and his escorts are going home, but that he will return with his military forces as he is declaring war on Equestria.
Twilight laments her failure in Sugar Cube Corner with her friends, only to accidentally press against a cupcake statue that opens a trap door in Pinkie's room. The trap door leads to a secret party planning basement, where Pinkie has detailed files on the kinds of parties that everypony likes. Through a series of misadventures, Pinkie makes it all the way to Yakyakistan's gates, guided by a young yak. But, just as she's about to enter, a sled she was riding on has the snow break underneath her, and slides her all the way back to Ponyville, negating her journey. Pinkie hears the Mane Six in the planning basement, and joins them, recounting how she failed. Her friends assure Pinkie that she's not a failure, though Pinkie still wishes that there was a way to show the yaks how great Equestria is. That gives Pinkie an idea, meeting up with Prince Rutherford and the other yaks as their train is blocked by the same sheep that blocked Pinkie. She says that, instead of trying to make Equestria feel like Yakyakistan, they should have been showing the yaks why the ponies think Equestria is so great. Pinkie pulls an impromptu party that shows the yaks just that, and Rutherford, moved by this, calls off his declaration of war, saying that yaks and ponies will be friends for a thousand moons.
---
Tropes:
---