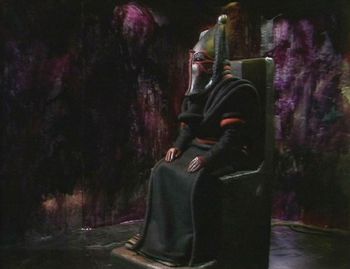 "Deactivating a generator loop without the correct key is like repairing a watch with a hammer and chisel. One false move and you'll never know the time again.
"
— The Doctor
The one where the Red Hood steams a man to death.
Written by Lewis Greifer and Robert Holmes (under the pseudonym Stephen Harris). This four-episode serial first aired from October 25 to November 15, 1975.
---
The Doctor is having a bit of a midlife crisis, which isn't helped much when Sarah decides to raid the TARDIS wardrobe and show up in one of previous companion Victoria's old dresses. She also suddenly sees a demonic goat head floating around in the TARDIS. ...What?
As the TARDIS lands in 1911 England, the Doctor gets involved in a plot that wouldn't have been too out of place 20 years later on Stargate SG-1.
Egyptologist Marcus Scarman has been possessed by Sutekh, last survivor of the ancient Osiran race who appeared to the Ancient Egyptians as gods. Sutekh is trapped in an Egyptian pyramid, his prison maintained by a signal from another pyramid on Mars. Sutekh has Scarman build service robots, (badly) disguised as Egyptian mummies, then with their help he builds a rocket to destroy the Martian pyramid.
Sarah Jane is all ready to leave and vworp back to 1980, but the Doctor shows her the view of 1980 Earth (a desolate wasteland) and explains that this is one historical event they are going to have to meddle in, for a change.
The Doctor and Sarah Jane destroy the rocket, but the Doctor is soon forced to admit that Sutekh literally has god-like powers when he falls under Sutekh's control himself. After a Kerb-Stomp Battle in Sutekh's favour and some thorough Mind Rape, the Doctor is made to transport Scarman to Mars in the TARDIS to disconnect the signal trapping Sutekh.
That done, Sutekh's hold on the Doctor is released. The Doctor realises there will be a delay before it has an effect on Earth, and makes it back in the TARDIS just in time to use the TARDIS' time controls to push the exit to Sutekh's time/space tunnel far into the future. Sutekh dies of old age before he ever reaches it. A malfunction starts a fire, and the Doctor and Sarah slip away as the house burns down, as it did in history as they know it.
---
Tropes:
---