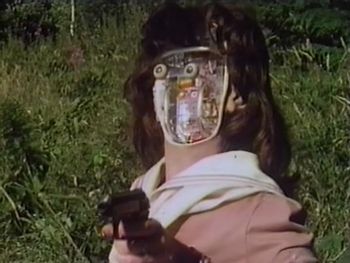 "Is that finger loaded?"
— The Doctor sizes up the threat.
The one where Sarah doesn't like ginger pop.
The TARDIS lands in a typical English village that Sarah recognises as Devesham, home of the British Space Defence Station. However, it soon becomes obvious that things are not all as they should be, and the Doctor and Sarah realise that the village is a replica populated with androids.
An alien race — the Kraals — are aided by a brainwashed human astronaut, Guy Crayford, and have built the replica to rehearse for an invasion of the Earth. Styggron, a Kraal scientist, has perfected a lethal virus and plans to use his androids to disseminate it around the world, paving the way for the Kraal fleet.
Crayford, whose rocket had been damaged and who was rescued by the Kraals, returns to a hero's welcome. But with the Brigadier off in Geneva, no-one at UNIT believes the Doctor when he tells tall stories of android replicas — which now include himself, Harry and RSM Benton. The Doctor manages to use the radio equipment at the base to jam the android control signal and stop Styggron releasing the virus. He then uses his own android replica to fight Styggron, who infects himself with the virus in the process and is killed.
---
One of only two non-Dalek scripts written by Terry Nation, though a significant amount was re-written by script editor Robert Holmes, and Tom Baker and Elisabeth Sladen apparently changed much of their dialogue.
Tropes
Agony Beam: The Kraal mind scanner. Even when it's set low, it's super-painful.
All There in the Script: According to the script, Corporal Adams' first name is Richard.
Back from the Dead: One of the many clues that something is terribly, terribly wrong in town is the fact the Doctor and Sarah see Corporal Adams up and about... despite him having just run off of a cliff earlier and had no pulse when they checked him.
BBC Quarry: About five minutes after they land, the Doctor and Sarah wind up in one, where they witness android Adams leap to its death. In episode four, the landing pods end up in the version on Earth (hey, why waste a good location shoot?)
---