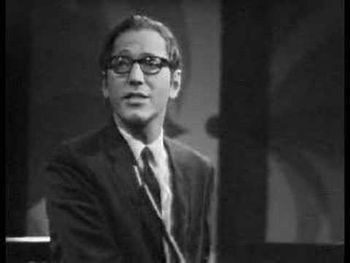 "I find that if you take the various popular song forms to their logical extremes, you can arrive at almost anything from the ridiculous to the obscene—or, as they say in New York, sophisticated."
Thomas Andrew Lehrer (born April 9, 1928) is an American satirist who managed to achieve remarkable popularity and impact on popular culture, despite having produced only three albums' worth of material in the 1950s and '60s before retiring to a life in academia as a mathematician. Lehrer's pieces often take the form of witty parodies of various popular song forms. Other common themes in his work are disapproval of nuclear war, Cold War politics, and folk singing. Of course, he undercuts that last by putting forth as perfect a rendition of such songs as can be done with only a piano ("imagine, if you will, that I am playing an 88-string guitar", as he said in his intro to "The Folk Song Army," on his 1965 album That Was the Year That Was) as accompaniment.
He also wrote 10 songs for the children's educational series The Electric Company (1971).
Lehrer is still alive and occasionally performing. At the 80th birthday party of a fellow mathematician and friend Irving "Kaps" Kaplansky, he dusted off a handful of mathematics songs
to an appreciative crowd of students and fellow mathematicians.
"Weird Al" Yankovic cites Tom Lehrer as one of his inspirations, while Dr. Demento has described him as "the greatest musical satirist of the 20th Century." Lehrer's own inspirations notably include Gilbert and Sullivan, Danny Kaye and Cole Porter. He also claimed to have invented the Jell-O shot
as a way of circumventing military base regulations, though the idea goes at least as far back as the 1862 book, How to Mix Drinks or The Bon-Vivant's Companion.
The website Tom Lehrer Song Lyrics (With Annotations)
features a collection of, well, his annotated lyrics.
In the fall of 2020, at the age of 92, he announced that he was releasing all of his lyrics and sheet music to the public domain, and set up his own website
for downloading them, which will remain online until 2024.
Trope Namer for The Masochism Tango.
Discography
---
Non-album songs display examples of:
---